Testing questions go unanswered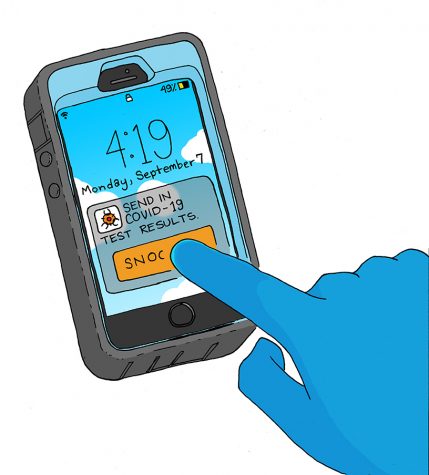 Thursday night, after a whole day of waiting for UVM to post the new testing numbers to their coronavirus dashboard, our News Editor texted our Managing Editor when the numbers finally went up. 
They were both confused.
The night before, in a Zoom press conference, Burlington's Chief Innovation Officer Brian Lowe  announced that 9,855 tests were conducted prior to arriving on campus. Now, UVM's website says 9,701. A discrepancy of 154.
In an email from UVM spokesperson Enrique Corredera, he said that the number announced at the press conference was the number of pre-arrival tests taken at that time. The number on the website is the number of tests received. 
The discrepancy is because there is some lag between when a test is taken and when the result is received.
But still, more questions remain.
Because neither numbers are even close to the 11,000 students who are here—in Burlington—at UVM—walking around campus which was also announced at the Mayor's press conference. Did over 1,000 students just show up without getting tested?
We are a week into school. Are 154 students taking their pre arrival tests post arrival?
UVM doesn't even know how many students are back. 
"We have about 1,400 undergraduate students who have chosen the stay-at-home option," Corrdera stated in an Aug. 31 email. "We will not have final enrollment numbers until a few weeks into the semester."
Over 3 weeks ago on Aug. 13, the table showed that five off-campus students had tested positive as well as one staff member.
However, if you look at the "cumulative" numbers now, which says it's taking into account totals since Aug. 7, it says that four off-campus students have tested positive, which is less than five, and zero staff members, which is less than one.
The sad and frustrating thing here is that we wish we could give you answers to these questions and more, but the University has made it obvious to us that it is not willing to have this conversation.
At the Cynic, we make it our mission to seek out truth and we take that job very seriously. Right now we have more questions than answers.
We reached out to the Vice President for Operations and Public Safety Gary Derr and did not receive a response. 
We reached out to Associate Communications Director Jeff Wakefield and were redirected to Corredera.
We sent an email to [email protected] and were redirected to Corredera. 
We sent an email to the UVMStrong Fall 2020 Advisory Committee which was formed in response to the impact of the COVID-19 pandemic and received no response.
We are thrown into an unfortunate situation: How do we report on numbers that have obvious discrepancies and how do we point out these problems when the only responses we receive in our inboxes are redirections and "answers" that answer nothing?
As UVM students, we have a right to know the truth. However, if there ever was a time for UVM to be as truthful as possible it's now when people's lives are on the line.
Regardless of what the answers to these questions are, it shouldn't be this hard. If the student organization, whose job it is to interpret information for the student population is confused, we can only imagine how the student body feels. 
We need to demand that UVM produce updated numbers daily instead of weekly.
We need to demand the same amount of truth from UVM that it would demand of us.