University denies stem bias, yet cuts arts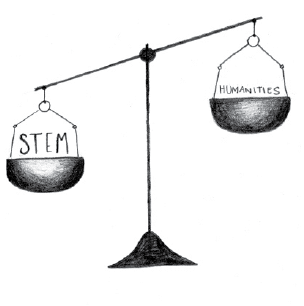 While the voice of the University says one thing, the hands do the opposite.
While assuring students it values the liberal arts, the University has allowed six spring music and dance classes to be cut days before registration.
In the Nov. 7 issue of the Cynic, our staff editorial called for increased funding and resources for humanities and arts programs.
We noted the new science buildings popping up around campus and the noticeably deteriorating spaces for philosophy and English classes.
These are the physical manifestations of what faculty and students have been talking about for years: UVM appears to prioritize STEM programs.
The proof accumulates.
This week, the Cynic reported on 12 classes cut from the College of Arts and Sciences, including six from the music and dance department.
Former music and dance department chair D. Thomas Toner  stepped down from his position mid-semester, an unprecedented move, because he refused to appear supportive of the cuts to classes.
In a letter to the editor opposite this page, Provost David Rosowsky affirms UVM's commitment to the liberal arts.
"Our support for the humanities is clear," Rosowsky wrote.
To students like senior Mia Fishkin, the support is not clear. Days before registration, she said she was scrambling to plan out classes that would work with her dance minor.
Members of our staff in music and ballet classes won't continue their studies next semester because of the cuts.
College of Arts and Sciences Dean William Falls said these classes were cut because the College could not let any full-time faculty go at this point in the semester.
It is vital that all departments retain part-time faculty.
Part-time chemistry professors may do research; part-time music professors may be professional musicians.
Professors who are active in their fields enhance the education of their students.
The University is cutting fine arts professors with continued professional experience.
We stand by D. Thomas Toner and hope his resignation serves as a warning of the seriousness of these cuts.