We must force change upon Sodexo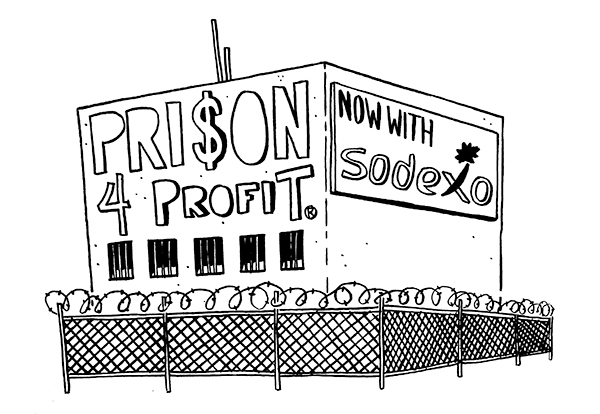 Sodexo is a name well-known on campus, but less known are names like Bronzefield, Addiewell or Melaleuca. These are some of the prisons that Sodexo operates.
Sodexo as a multinational corporation is harming the international community through involvement in human rights abuse in the private prison industry.
Sodexo has worked with UVM for over 60 years, according to a November 2015 Cynic article. One of their branches is Sodexo Justice Services.
Many of the prisons operated by Sodexo have systemic issues that result in human rights abuses for inmates and prison workers alike.
The most notorious is Her Majesty's Prison Bronzefield, the largest women's prison in the United Kingdom and Europe.
In 2016, a woman named Natasha Chin was found unresponsive in her cell at Bronzefield after vomiting for nine hours without medical attention, according to a December 2018 Independent article.
In the trial that followed, the jury stated Chin's death was caused by systemic failures that resulted in a lack of basic care and that her death was contributed to by neglect.
Chin's death is part of a pattern. Since her death, three more inmates have been found dead in their cells, according to an October 2018 BBC article.
Last October, a pregnant inmate went into labor in her cell. She received no medical attention and was found hours later. The baby died, according to the article.
The prison was criticized by the prison guards' union, lawyers and inmates' families for being poorly run and awash with drugs.
In May 2017, Legal Aid, the government commission for legal council in Australia, warned its lawyers against visiting their clients.
Sodexo has been pressured by student activists to change their actions regarding private prisons before.
In 2001, they had to sell their 20% stake in the Corrections Corporation of America, now CoreCivic, one of the world's largest private prison corporations.
This was after student protests from 50 of the 500 college campuses serviced by Sodexo at the time, according to a January 2001 Prison Legal News article.  The UVM community has the power to force change upon Sodexo again.
We must come together to denounce human rights abuses and to denounce Sodexo.