Why Trinity campus is perfect for first-year students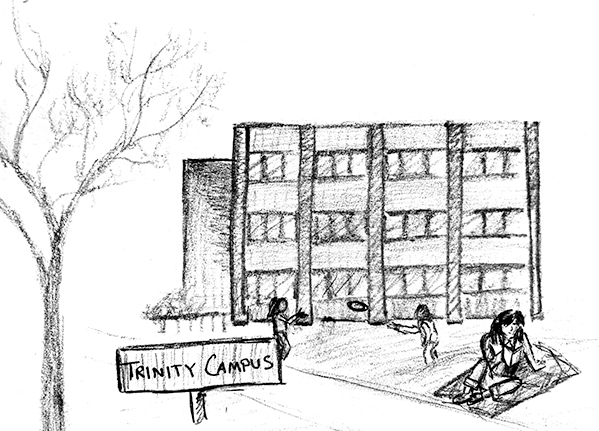 During the room selection process for rising sophomores, it became clear that most students didn't want to live on Trinity campus. Yet, Trinity campus allows first-years to succeed.
The Residential Life website's Returner Room Selection page used to say students living in traditional housing could choose to live in "various locations across campus."
For 2019-2020, the only options for students in traditional housing are Jeanne Mance, Mercy and the Trinity Back Five: Hunt, McCann, Ready, Richardson and Sichel. This change occurred the morning traditional housing lottery numbers were sent out.
It's understandable why rising sophomores might be upset about this. But for first-years, living on Trinity gives them an opportunity to adjust to college life in a smaller space than dorms on Redstone or Athletic campus.
With a small number of dorms, Trinity is less intimidating. Plus, it also allows first years to bond with one another. McAuley Hall is already first-year only and provides an inclusive experience for students.
"It's good to live with people who are in the same boat as you," said first-year Sydney Vincent, a current McAuley resident.
Imagine a tight-knit community of people formed in that hall, all experiencing college for the first time. Creating more first-year only dorms will foster connections between students that last even after they move to the main campus.
At Emory University, they created a separate campus for underclassmen: Oxford College in Oxford, Georgia.
Oxford is separate from the main Emory campus and dedicated to first- and second-year students, according to its website.
At Oxford, students foster relationships that translate to success once they move to the big campus in Atlanta.
If the traditional or unprogrammed housing and the Arts and Creativity learning communities joined to create a first-year only campus on Trinity, it would be ideal for both. The two communities already intermingle in McAuley Hall.
Once sophomore room placement rolls around, students should "graduate" to Athletic or Redstone campus, places that could be overwhelming for first-years.
While this may be impossible with learning communities dictating where one lives, I think an all first-year campus would benefit UVM's community and create a cohesive environment for first-years.