Anticipating sports in the year ahead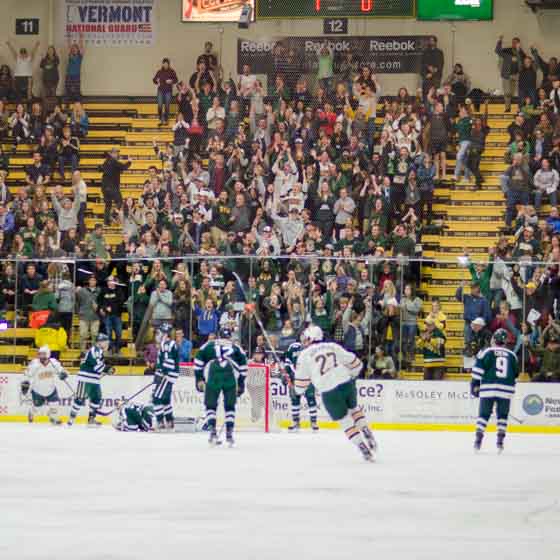 "I'm looking forward to seeing how the men's hockey team closes the season after their hot start in the first half of it.
Coming off a mediocre season in 2015-16, it will be interesting to see how this team reacts to their recent success, especially due to the many first-years in primary roles on the team.
Now that the team is coming into the more difficult part of the season and playing more talented opponents, it will be interesting to see whether UVM can keep up their early season success through the Hockey East tournament."
John Suozzo
"As the new semester begins, there is much to be excited about around Burlington, as winter sports are in the midst of conference play.
Men's basketball is off to a hot start, tallying two convincing wins in the America East. I think we can look forward to another deep run in the conference tournament, as well as big games from redshirt senior forward Darren Payen.
In their last game against Hartford, Payen totaled 18 points, and his ability as a steady rebounder, has catapulted him into the starting lineup.
Look for Payen and the rest of the men's basketball team to finish as the top dogs in the America East, and to be playing in the NCAA tournament come March."
Zach Falls
"I'm looking forward to seeing how the hockey programs can build off the positive momentum of the last few weeks.
Men's hockey gets a lot of hype, and rightfully so as they've surprised a lot of people this year. I saw some people penciling them in as low as No.10 in Hockey East and right now they're No.3. 
But the women have also impressed this year, including a sweep away at then-No. 10 Northeastern University and a home upset over then-No. 9 Boston University."
Locria Courtright
"After a very impressive 2016, I'm looking forward to  how senior forward Brian Wright's soccer career progresses with the New England Revolution in the Major League Soccer.
It will also be interesting to see how the men's soccer team adjusts after losing a wave of seniors, including Wright and his partner in crime senior forward Bernard Yeboah.
Other players graduating this year include defender Skyler Davis, midfielder Jackson Dayton and forward/midfielder Stefan Lamanna.
It will be particularly interesting to see how head coach Jesse Cormier rebuilds his team, and which players can take on leading roles with so many leaders now gone."
Eribert Volaj