Decorated skier cites drive to the key of her success
A UVM nordic skier was honored with a major award twice in one week.
Senior Alayna Sonnesyn won the NCAA All-American First Team Title for finishing second in the women's 15K freestyle race. UVM finished in fifth place overall with 355 points, according to UVM athletics.
"I did not want to put too much pressure on the results" Sonnesyn said. "I just wanted to focus on my own racing and make sure that I was doing the best that I was doing the best I could."
In past races, Sonnesyn was placing in the 30s, but now she is placing second or third, Weaver said.
"[Sonnesyn] worked so hard all summer, fall and winter and to see everything come together for her at the NCAA's was nice to see," head coach Patrick Weaver said.
This win gave confidence to both the nordic and alpine teams, which only race together during the NCAA races.
Sophomore alpine skier Mille Graesdal watched Sonnesyn race, and said "she's impressed and happy for her doing that well."
Even after this win, Sonnesyn said there's still room to improve, especially with her technique.
"She needs to take little steps each year," Weaver said. "Get a little stronger, fitter and faster so it is natural to see these improvements in the races."
The nordic ski team trains 10-15 hours per week during the season. Off season, they train 15-25 hours per week.
When there's no snow to ski on, they do intensity workouts in the gym, including roller skiing, biking, rowing and weightlifting, Sonnesyn said.
This constant training allows little changes to be made that will make you a better skier, Sonnesyn said.
However, training makes it difficult to balance schoolwork and being a student athlete, she said.
"[Before a race] we typically taper the volume, increase the intensity and make sure we are getting good rest and recovery," Weaver said.
This is very important because races can be mentally and physically tough; since skiers give their all in a race, by the time they cross the finish line they usually fall down, Sonnesyn said.
"You know you're going to hurt yourself in a race so you need to prepare yourself mentally for how much can I make myself hurt and handle it," she said. "That's what your teammates are there for too, so we rely on each other to get each other through that."
There's the understanding on the ski team that you need to have the initiative to go out and improve on your own. To do this, self motivation is key, Weaver said.
"[Sonnesyn] has this drive and her presence on the team gives the others a great teammate to train and race with," he said.
When Graesdal joined the team, Sonnesyn helped her with training and getting to know other people on the nordic team, Graesdal said.
This year's NCAA race was a turning point in Sonnesyn's skiing at UVM.
"It is great to see as it shows all the hard work has paid off, not only for Alayna but [it] should also give confidence to the entire team as well," Weaver said.
Leave a Comment
About the Writer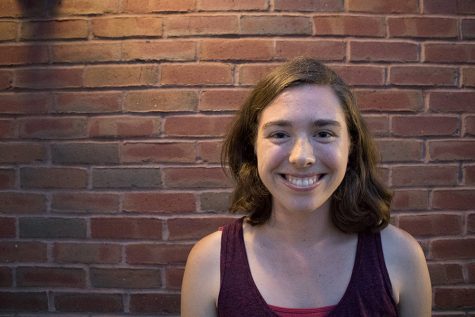 Sabrina Hood, Sports Editor
Sabrina Hood is a senior French and business administration double major. She joined the Cynic in February 2016 as a photographer and a year later joined...