Alumni House exhibits student art for first time
Within its Victorian architecture and woodworking, the Alumni House serves as a place for alumni to connect with students and with UVM.
The Alumni House will be hosting its first student art show, Pride of Place, April 18 at 61 Summit St. The show features the work of 13 current students.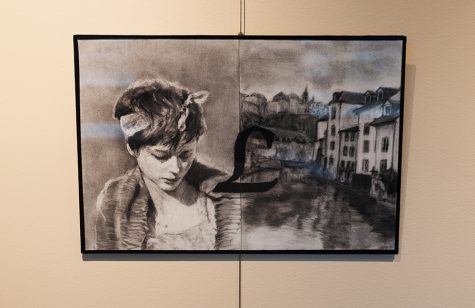 Patrick Maguire, the house's operations manager, said that the house has been wanting to host artwork for a few years and has finally figured out how.
"The Alumni House has been open for three years and we've really wanted to use our space as a gallery to host alumni, student and UVM community artwork," Maguire said.
This year, Maguire started an internship program. Two art students were hired as curators for the Alumni House.
Sophomore Juli Badics said the internship has given her a lot of freedom to do what she wants, with the goal of putting together the art show.
"Pride of Place focuses on the transitional period in college that's weird, tumultuous and intensely unique for each student," Badics said.
Maguire added that the show can mean a lot of things but showcases student passions that explain why students are proud to be at UVM and proud to be artists.
"The exhibit is meant to focus on themes of home, transition and what it means to shift places to the next, from your home to UVM and after," Maguire said. "It ties into identity as well, especially as students and artists."
Badics said the students contributing to the art show come from all majors.
"We thought we would be stuck within the art zone, but we actually had art come from all kinds of people," Badics said.
Art by biology, computer science, neuroscience and art education majors is being showcased, she said.
"Everyone at the show has a lot of interests and we wanted to show that," Badics said.  "A lot of people feel like our students are separate from each other, but you can actually find a lot of common ground."
Junior Zoe Pancic's drawing in charcoal pencil, "Healing," was selected for the show.
"Although a simple medium, it meant so much to me symbolically when I drew it and reflects how I had been feeling inside for the past several months," she said.
This is the first time sophomore Reshma Rampersaud's photography has been shown in an art show.
"I submitted my work on a 2 a.m. whim, not really expecting anything to happen," she said. "But I got an email a month later saying my photo was chosen. I was excited but also kind of shocked that people wanted to display my work."
Maguire said he was excited to see how the art show is  coming together and thinks that it's a great chance for student artists to get their work seen.
"When we opened a few years ago, I sent a lot of emails to folks on campus asking about  displaying art, Maguire said. "The response was quiet.
"I'm excited because Alumni House is a great space, it's an actual gallery and it's an opportunity for students to showcase their work in an actual public venue."
The Pride of Place showcase will run from April 18 to May 31.