Juicebox wins Battle of the Bands
Student bands performed original songs and smeared themselves in fake blood while posters of legends like Jimi Hendrix and Bob Marley hung on the walls.
UVM Program Board hosted its annual Battle of the Bands Finale from 5 to 7 p.m. March 23 at Nectar's. Stumble Street, Boys Cruise, Juicebox and March Against Empathy performed.
Kevin Slafsky '18, one-seventh of the band Juicebox, said he thought it was a great event.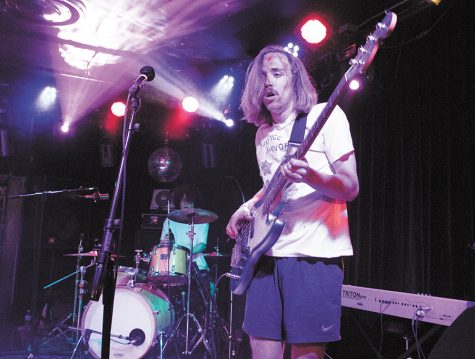 "It's sick. It gives a lot of people the opportunity to see local music and students kickin' ass," he said.
The event was well liked both by performers and audience members.
"It was good to see some student bands," sophomore Michael Haydon said. "Lots of students attended the event which was nice."
Nectar's filled pretty quickly and stayed that way. Fifteen minutes in, the crowd stretched from the stage into the restaurant area.
The bands were musically diverse. Stumble Street performed sung vocals over lowkey electronic beats, Boys Cruise was a rock trio, Juicebox rapped over jazz and March Against Empathy played metal.
Junior Max Greenwood spearheaded the UPB committee that put on this year's event.
"Boys Cruise has just great stage presence, Juicebox is just amazing to watch as well, and March Against Empathy, like, that guitarist just shreds," Greenwood said.
The battle started with 18 bands and was narrowed down to four finalists after two rounds.
The UPB concert committee and the WRUV program director were the five judges of the battle. Greenwood noted that if the judges didn't agree with their quantitative score, they would choose the winner amongst themselves.
"There are three judging criteria: stage presence, musicality, and crowd reaction. We rate those on a 1 to 10 scale and add up the total points," Greenwood said.
Each band had between 15 and 20 minutes to perform, one after the other. Some bands did more than just play music.
During their set, Boys Cruise pulled a few stunts, such as coming on stage on one another's shoulders in a trench coat. In between songs, they smeared  themselves in fake blood, which they said was President Tom Sullivan's.
"All of the finalists were the bands I had my eye on the entire time," Greenwood said. "I was happy with the diversity of the finalists too."
UPB announced Juicebox as the battle's winner, March 25. Juicebox will open for the headliner at SpringFest, April 27.