Trick-or-treaters celebrate Halloween at Horse Barn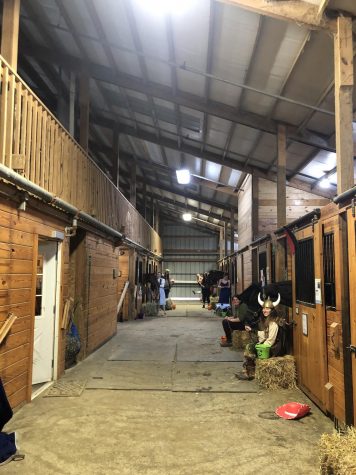 A sea of trick-or-treaters went stall to stall collecting candy from student handlers and their costume-clad horses. 
The Halloween Barn event was held on Monday, October 28 at the UVM Horse Barn. It was a student-run, faculty-supported effort led by the Animal and Veterinary Science department.
Adults and children alike trick-or-treated at the horse stalls and enjoyed a bake sale, an obstacle course and a surprise visit from a calf from the adjacent cow barn. 
"It's a great way to engage with the community," President Suresh Garimella said in his visit to the event. 
Dr. Jenny Wilkinson, Senior Lecturer of Animal Science, said that the UVM Horse Barn is the only barn in close proximity to the City of Burlington. At the event's inception 15 years ago, only 100 kids showed up. On Monday, there were over 500. 
Dr. David Townson, Department Chair of the Animal Science Department, and Dr. Wilkinson both said that it's a way to expose adults and children alike to the University, to animal science, and to horses. 
"Many of our participants are from the South Burlington and Burlington area," said David Townson, Department Chair of the Animal Science Department. "It's a safe environment for all ages to trick-or-treat."
According to sophomore Ella MacMaster, planning began before the beginning of the school year. Over 40 students in various subcommittees were assigned specific tasks. 
Wilkinson said that among other logistics, 12,000 pieces of candy were bought. 
One of the most exciting parts of the Halloween Barn is the opportunity for students and horses alike to dress up in costume. 
"I like to do a play on my horse's name," said MacMaster, a Co-Op member, and Dressage Team Captain. "We'll also incorporate pop culture references and look at recent movies to try to bridge the generation gap."
Costumes for the horses this year included the Cookie Monster, Romeo, Scooby-Doo, a football, Shrek and others. 
The UVM Horse Barn is a student-run endeavor with faculty support. Students may participate in daily barn activity through one of three ways: a) EQUUS, a hands-on horse management course, b) club Dressage, a competitive horse riding team, or c) Co-Op, an opportunity to board your own horse and fully manage the barn. 
Altogether, approximately 40 students are responsible for the day-to-day management and upkeep of 22 horses. 
According to Professor Chrissy Rohan, Faculty Advisor and Lecturer for EQUUS, the next community event that the Horse Barn will be undertaking is the Spring Event. Held in April, the Spring Event is a community-focused educational opportunity focused on riding. 
"Ultimately, we're a public university and this is truly a public barn," Wilkinson said. "It's meant to be open and accessible to all."