Club seeks representation with flag raising
A breeze blew across the oval as a crowd slowly gathered outside of the Davis Center.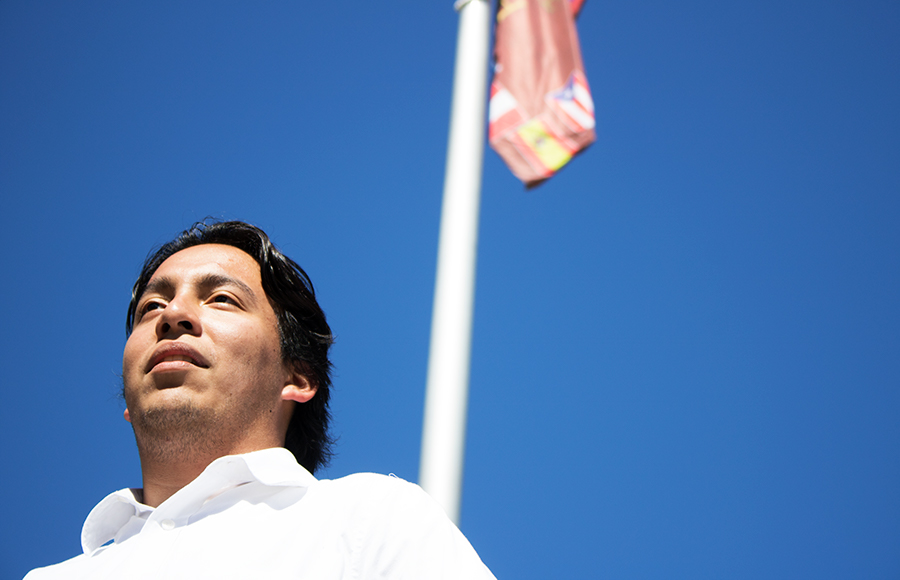 Students and Alianza Latinx members stood in the shade as they waited for the event to begin.
Alianza Latinx, a Latin and Hispanic identity group, raised a flag displaying a collage of flags from different Latin American countries Sept. 15.
The flag was raised to honor the start of Hispanic Heritage Month.
"Last year we decided to raise a flag," said Amanda Martinez, Alianza Latinx's community and political outreach coordinator. "So it can be known that this is our month."
Hispanic Heritage Month is important to Martinez because she was born and raised Puerto Rican.
"[The Alianza Latinx] wants to be represented, and it's a way to feel at home [at UVM], even for a few months," she said.
In total, nearly 20 students came to the flag raising.
As Alianza Latinx President Ariel Tubbs began the event, the crowd cheered and whooped, and she laughed along with them.
"I would like to tell you why this day, why this month is very important to me," Tubbs said.  "I can comfortably step into my identity and learn about myself more."
As the speeches ended and the final student stopped clapping, Tubbs went to the flag pole, gripped the crank and slowly raised the flag.
A small breeze caught the flag and it unfurled to claps and cheers.
Sept. 15 marked the beginning of Hispanic Heritage Month, a tradition that first began as a week-long event established in 1968 by Congress.
In 1988, Congress passed and established Hispanic Heritage Month according to the Law Library of Congress.
The law celebrates "the anniversaries of independence for the Latin American countries of Costa Rico, El Salvador, Guatemala, Honduras and Nicaragua as well as Mexico's independence," according to the Law Library of Congress website.
Daniel Tovar, a recent hire at the Mosaic Center, said this flag-raising event was very important to him.
"We are at such a predominantly white institution," he said.
Tovar said he could celebrate Hispanic Heritage Month at UVM because of the community he found here.