Olympian turns passion into purpose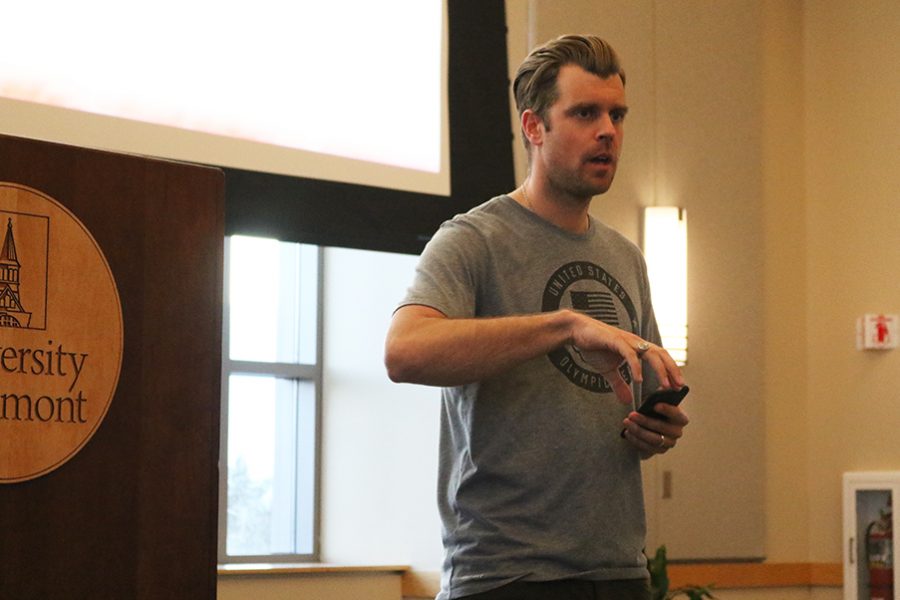 When U.S. Olympian Alex Deibold isn't chasing winter around the globe, he spends his days fighting to protect the snow his sport requires.
Deibold visited UVM April 10 with representatives from Protect Our Winters. His talk, "Turn Your Passion Into Purpose," explained how outdoor enthusiasts can become climate activists.
Deibold won a bronze medal in snowboard cross from the 2014 Olympic Winter Games in Sochi, Russia.
Protect Our Winters is a non-profit focused on affecting systematic solutions to climate change. POW was founded in 2007 by professional snowboarder Jeremy Jones.
Jones has since been joined by dozens of other professional outdoor athletes who, through the POW Action Fund, lobby for policy on Capitol Hill.
"I've been following POW for four or five years," first-year Sophia Garrubbo said. "My favorite athletes, especially freeskiers, are involved."
Deibold said he joined POW in 2013 in order to better educate himself about climate change and to figure out how he could make a difference.
"Snowboarding has taken me to some incredible places," he said. "But I've seen [climate change] everywhere I've gone, and when you see it happen in person, it affects you to your core."
"
I've seen [climate change] everywhere I've gone, and when you see it happen in person, it affects you to your core.
— Alex Deibold
Deibold learned to snowboard in the early 1990s at Bromley Mountain in Peru, Vermont. He later deferred his acceptance to UVM in order to join the U.S Snowboard Team, he said.
After failing to qualify for the 2010 Olympics, Deibold worked long and hard to go to Sochi in 2014, he said. He podiumed for the U.S. in the snowboard cross competition.
Deibold described snowboard cross as "Nascar on a snowboard."
Deibold brought his Olympic medal with him to the Silver Maple Ballroom, passing it around the room for students to hold and take pictures of.
"The coolest thing about winning an Olympic medal is being able to share it," he said.
The Olympics put him in the spotlight, Deibold said, and because of that, people started asking him a lot of questions.
"People will say, 'Okay, so you say you stand for climate change. What are you doing about it?'" he said. "You have to be prepared with an answer."
In the run up to the 2018 midterm elections, Deibold and his wife knocked on doors near their home in Salt Lake City.
"Telling personal stories makes a difference," he said. "And face time makes the story feel more real."
The representative from Deibold's district, Democrat Ben McAdams, won the 2018 election by 694 votes.
That is a small number in the scheme of things, Deibold said, and shows that every vote does count.
"Your ability to vote is one of the most American things that you can do," Deibold said. "It sounds cheesy, but there's real power in it."
First-year Emily Spencer said the event inspired her to think differently about how to combat climate change.
"I'm an environmental studies major, so I know the facts," she said. "But it's that social aspect, like going up to doors to affect change, that I learned today."
Lindsay Bourgoine, POW's manager for advocacy and campaigns, said POW would be visiting the Vermont State House April 10 in Montpelier.
"We're collaborating with the Climate Solutions Caucus on climate policy solutions," Bourgoine said.
POW was joined in Montpelier by representatives from Burton Snowboards, the mountain resorts Stratton, Sugarbush and Killington, as well as Ski Vermont, a non-profit trade association founded to advocate for the state's ski industry.
In Vermont, $5.5 billion is spent on outdoor recreation and 1 in 7 jobs are tied to the industry.  
These numbers mean outdoor enthusiasts can have a loud and influential voice, Bourgoine said.
"We like to work with colleges and bring athletes into schools because young people have power," she said.