SpringFest 2019
The line spread all the way down Main street as thousands of excited festival goers flocked to catch some of the east coast's finest rappers perform at UVM.
SpringFest 2019, a block party hosted by the UVM Program Board, was held on April 27 in the Jeffords Parking Lot. Although it threatened to rain, the clouds held off.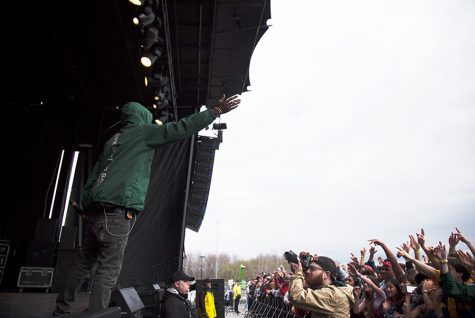 Senior Rachel Frankenfield, the chair of UPB, said that roughly 4,000 people attended SpringFest.
"The line was longer than usual because of high attendance," Frankenfield said.
Student band Juicebox, winner of this year's Battle of the Bands, opened the festivities along with rapper Rico Nasty.
Rico Nasty, fresh off of performances at Coachella and South by Southwest, played songs from her recent mixtapes.
The festival was headlined by newly formed hip-hop collective Beast Coast, consisting of Joey Bada$$, Flatbush Zombies, The Underachievers, Kirk Knight, Nyck Caution, Powers Pleasant and CJ Fly.
Beast Coast performed their debut single "Left Hand" as well as their solo music.
For senior Zach Biaso, the big name performers were the main draw.
"The lineup was my personal taste. It was more rap style, not a no-name punk band sort of thing. It was really cool to see," he said.
In the past, SpringFest has had a mix of rap and indie music, with artists such as Two Door Cinema Club and Playboi Carti headlining in previous years.
This year, organizers had aimed for more of a festival vibe, according to an April 13 Cynic article.
At the Artist Market local artists gathered to showcase and  sell their work.
"The Artist's Market went great, with some artists entirely selling out," Frankenfield said.
There was also a "Chill Zone" where students could relax and pick up water and snacks.
"Chill Zone is integral to our mission to put on a safe and welcoming event," Frankenfield said.
Junior Kristen Werner felt unified with the concert goers.
"It was really fun to see so many people together in one place for the same reason," she said.