Student podcasters bring NYC to BTV
Three friends and roommates from the Bronx, New York, gather around a mic once a week to let loose.
No Cap is a podcast created by senior engineering majors Keven Borges, Rafael Peralta and Antonio Jackson.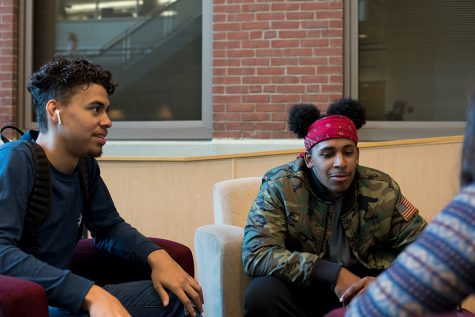 No Cap began in February 2019 after the Black Student Union Fashion Show at UVM. It's a weekly podcast that has recently reached 1,000 listens and 17 episodes to date. 
"We wanted to do something. We started off with a youtube channel before switching to a podcast," Borges said. 
The trio uses free recording equipment from Howe Library to record the podcast from their home.
No Cap is full of humor, lively debate and occasionally serious commentary. Borges and Peralta said the laid-back feel of the show makes it so that they feel like they can be themselves.
"When we're talking, the mics not there," Borges said. 
No Cap covers questions from "What is popularity?" to discussing the Avengers movies to the college admissions scam.
"We talk about issues back home as well as issues around the world," Peralta said.
Jackson and Borges have been roommates for all four years at UVM, and Borges explained how the dynamic for the podcast existed long before the idea was put into action.
"We would stay up all night talking," Borges said. "We once debated about whether or not Applebee's is fast food." Although their description on SoundCloud says the podcast is entirely jokes, Peralta said they try to find a solid balance between humor and seriousness.
"Our friends at home that listen said it's all jokes, but it gets serious at the end, and they like that," Peralta said. 
The hosts of No Cap also expressed the unique situation of being three men from the Bronx at an institution like UVM where they are a significant minority.
"No Cap gives people of color unification and a voice," peralta said. "It's good to know No Cap is spreading and we hope it helps people understand where we come from."
Borges said that No Cap gives him the freedom to talk naturally and without code-switching or changing the quality of one's voice to match that of the other speaker. 
"I find I change the way I talk automatically when speaking to a professor or a person of a different background, and it's good to be able to talk the way we do at home," Borges said. 
The creators of No Cap also emphasized that they welcome feedback and different opinions when making the podcast. So far they've had six guests on the show.
"You should always understand both sides even if you don't agree," Peralta said. 
While this is Peralta's first semester as a senior, Borges and Jackson are both graduating this December. Their post-graduation plans include continuing the podcast despite no longer being roommates.
"I want to keep doing No Cap, no matter where I am next year," Borges said.