The call of caffeine
With finals approaching, students are turning to caffeinated drinks in an attempt to summon the energy to cram.
Several students at 10:30 p.m. Nov. 19 were at Howe Library for a late night study session, typing on laptops and scribbling in notebooks with Speeder & Earl's coffee cups sitting on their tables.  
Caffeine consumed in moderation can be beneficial, according to an October 2010 study by the U.S. National Library of Medicine and the National Institute of Health.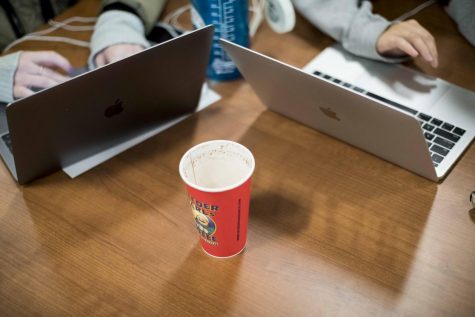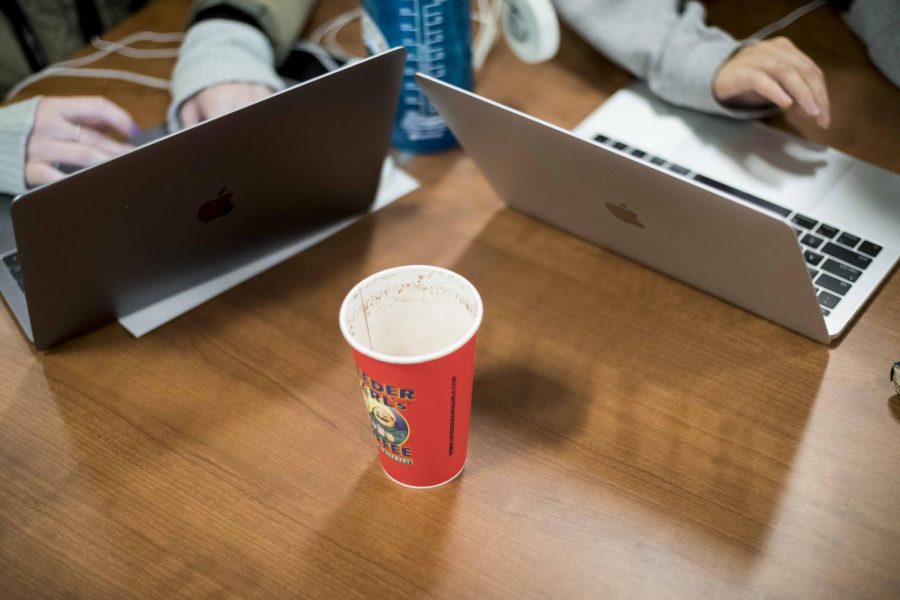 Some of these benefits include an increase in energy, a decrease in mental fatigue and an increase in focus and concentration, according to the study.
Sophomore Kat Eschel said she noticed these benefits.
"I think [coffee] has helped me with productivity," Eschel said.  
Eschel was studying in the library while drinking a small Speeder's coffee from the Cyber Café   
She believes caffeine can have both physical and mental effects, she said. 
"I also think it's kind of like a mind game you play with yourself," Eschel said. "Like, caffeine is supposed to help me study, caffeine's supposed to help keep me awake, so you're like 'oh, this is totally helping,' when in reality, it could just be like, you're focusing [on your own]."
Sophomore Hannah Coon agreed that caffeine does help with productivity, but it isn't the only reason a student is productive. 
"I've been productive, [but] I don't think it's because of the coffee," Coon said while drinking a Speeder's coffee from the Cyber Café. "I think it helps, but I don't think that's the sole reason why."
Students like junior Emma Sibley have also used caffeine as a substitute for sleep.
"Before I started my work I was feeling extremely tired and kind of just run down because I've been feeling a little sleep deprived lately, and this kind of woke me up and just gave me an extra boost," Sibley said, drinking a mocha coffee.  
Although there are benefits to consuming caffeine, students recognize that it's more of a crutch than a substitute for sleep and good study habits.  
Feeling wired when drinking caffeine is common among college students.  
A 2015 study at the University of Rome reported that consuming over 400mg of caffeine per day can cause unwanted effects, such as anxiety, agitation, restlessness and sleeping problems, according to a Nov. 7 Medical News Today article.  
Sibley said that she doesn't normally drink coffee because she has felt these negative effects.  
"Typically I don't drink caffeine very often, or when I typically do, I do feel wired when I'm trying to go to sleep," she said. 
The general consensus of these students at Howe Library was that caffeine is helpful when studying, but it isn't the sole reason a student is productive. They agreed that it does increase concentration and keep them awake.
The wide array of caffeine options provided at UVM allow for students to keep their brains alert, but whether it increases performance or not is dependent on the student.