Tri Delta throws annual Delta Desserts
Pink streamers, cut out hearts and plates full of decadent desserts filled every room in UVM's Tri Delta house.
Every spring, UVM's Tri Delta chapter hosts Delta Desserts, an all-you-can-eat dessert event that raises money for St. Jude Children's Research Hospital.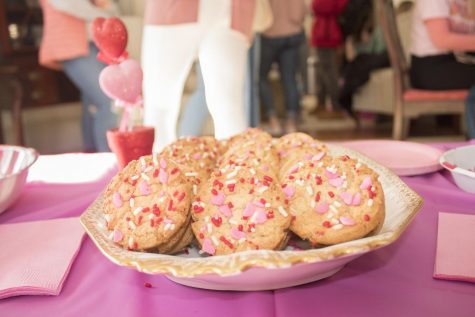 Delta Desserts 2020 was held Saturday, Feb. 8. This year, the sorority raised $1,200 as of Feb 9. The sorority is still waiting to calculate more donations from their online fundraising link.
St. Jude has been Tri Delta's nationwide fundraising partner since 1999. 
Donors were granted access to unlimited desserts, photo booths, Valentine's Day festivities and more. 
Delta Desserts is one of three large fundraisers the women in Tri Delta host for St. Jude every year, and it is the only one for which they open their house to the public. 
Last year Delta Desserts alone brought in $2,300 for St. Jude. This year they hope to raise closer to $3,000, with about 500-600 attendees.
Tri Delta's vice president of public relations Hailey Weinstein, a junior, was hopeful. 
"I think people are noticing our fundraising increasing and that's causing them to pay attention to us," Weinstein said.
Tri Delta fundraises mostly by using social media, especially Instagram which they believe helps them reach their fundraising goals, or even exceeding them like this year. Tri Delta has already raised approximately $18,600 of their original $18,000 goal for this academic year. 
"Every woman initiated in Tri Delta makes a dessert and brings it to the house," Weinstein said. "It's Valentine's Day themed and it's fun to bake and dress for the theme."
Weinstein and Philanthropy Chair Lindsey Brownfield, a senior, believe the success of the event is partly due to the passion people have for the cause.
"Many of us are nursing or education majors so we care about the work that St. Jude does for kids and cancer research," Brownfield said.
Weinstein added that for some people the cause may be particularly important.
"Even if there isn't a personal connection to the hospital, many have had family members that passed from cancer," Weinstein said. 
Weinstein said Delta Desserts also serves as a great way for bonding within the chapter. 
Most Delta Desserts attendees are friends or family of Tri Delta members, but the event is also an opportunity for prospective members to see the work the sorority does. 
"It's a chance to get to know Fraternity and Sorority Life and see the kind of events we do, even if they don't necessarily join Tri Delta," Brownfield said. "Delta Desserts is special because it really encapsulates our love for the sisterhood and for St. Jude."
Tri Delta member and senior Aysha Clark said it's special to be able to have an event in their house for the wider community. 
"It doesn't just feel like a Tri Delta event, it feels like a community event that just happens to be in our house, that's what makes it special," Clark said.