"TrinCity:" a new home for arts and creativity on campus
Tucked away on Colchester Avenue, past the UVM Medical Center and adjacent to the town of Winooski, lies Trinity campus, now a conflicting home for artists and creators.
Also known as North campus, the buildings were used for traditional housing until fall 2018, when UVM's official Arts and Creativity learning community launched.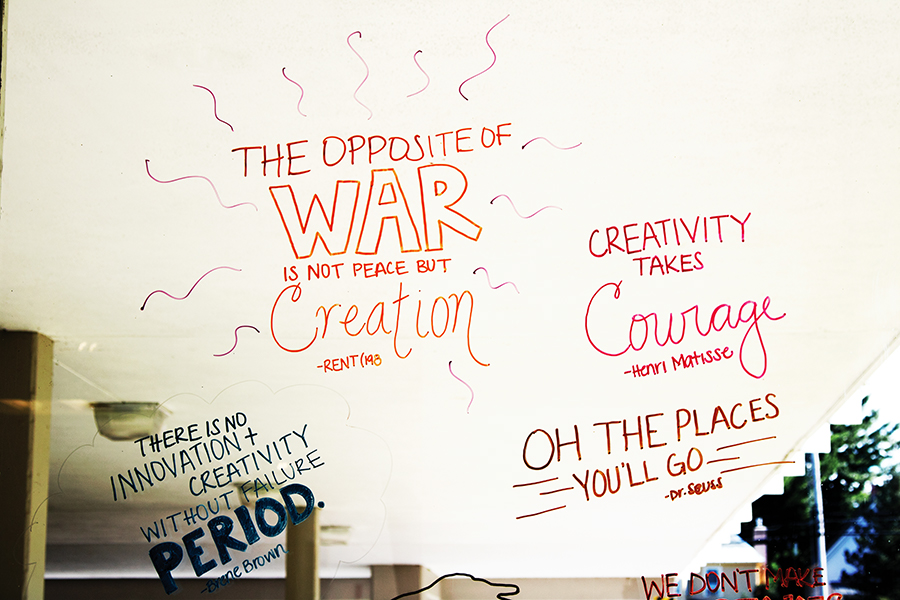 Of the nine residential buildings on Trinity, six are designated for members of the Arts and Creativity community.
The program, formerly known as the Arts Initiative and located in the Living/LearningCenter, consisted of 120 to 130 students and outgrew the space in spring 2018, Ann Barlow said, Program Director of the Arts and Creativity learning community.
The Arts and Creativity learning community, also referred to as "TrinCity" by students and administration, has grown to just under 600 students since its unveiling at the beginning of this semester, Barlow said.
The majority of residential buildings on Trinity are labeled Arts and Creativity, but other residential halls such as Mercy are not.
"Mercy is still considered traditional housing for this year, although students in Mercy are welcome to come to any and all of our events," Barlow said. She hopes that Mercy will officially become part of the community by Fall 2019.
Junior Curt Scheffel is a resident adviser in Ready hall, one of the residence halls in the "Back Five", which includes Ready, McCann, Hunt, Sichel and Richardson halls.
Scheffel was a member of CAD his first two years at UVM, he said.
"The biggest challenge is just that anything we want to do is brand new and we're creating it on the spot," Scheffel said.
Scheffel has questions about why the University chose to put the Arts community on Trinity, he said.
"I think that it's very interesting that they put the arts in a place where nobody really goes," Scheffel said.
Twelve classes in the College of Arts and Sciences were cut for the 2018 spring semester. This move by the University provided evidence to a suspected bias toward STEM programs over Arts and Humanities classes, according to a 2017 Cynic Staff Editorial.
Scheffel said he remains optimistic.
"I'm excited to see how the community rises," he said. "My favorite thing is that people are enthusiastic about it." While the increase in space allows for a greater number of students, Barlow said that there were concerns from students previously involved in the program about the move from L/L.
Sophomore Bryce Gross was a member of the Community for Artistic Development in L/L last year and admitted he was unsure about the move to Trinity.
"I was unsettled because my preconceived notion from other people was that Trinity was not good," Gross said.
Trinity Campus appears to have a bad reputation on campus. Barlow explained that she isn't quite sure where these rumors originate.
"So wait a minute, 'It sucks.' But what does that mean?" she said.  
The shift to Trinity is still new, and Barlow is excited about what the coming year has to bring, she said.
"Two weeks in, I think it's been pretty exciting," Barlow said. "I am incredibly hopeful to see what happens over the next 13 weeks."
Barlow said that she encourages all students with a creative mind to stop by TrinCity.
"Whether you're a practicing artist or you don't even consider yourself an artist, come over," she said.