Lucky Chinese Food Cart boasts 27 years on campus
In search of a tasty, affordable lunch on campus students often frequent the food trucks that line University Place.
Lap Ninh has been operating a self-run Chinese food truck called Lucky Chinese Food Cart on University Place since he was 35-years-old.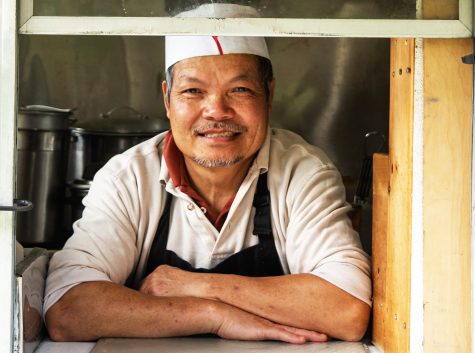 Students who are fans of his General Tso's chicken, lo mein or fried rice are in luck because he doesn't plan on stopping anytime soon. 
"I want to work for five more years," Ninh said. "I'm 62 now, so I want to work until 67. After 67 if I still have energy, then maybe two or three days a week."
Ninh is the father of four sons. His two oldest attended UVM, his third attended Champlain College and his fourth is finishing his senior year at Harvard University, he said.
Ninh will decide his next step in life depending on where his sons are.
 "If they move far away maybe my wife and I will move there," he said.  
Ninh has an affinity for working with UVM students, as they remind him of his own children. 
"They're really nice," Ninh said. "You know, sometimes I feel like they're just like my kids. I like joking with them."
Senior Sid Callahan said he has established a friendship with Ninh. 
"He's my boy. We talk about sports games, about football," Callahan said. "He tries talking to me about soccer but I don't know anything about soccer."
Lucky Chinese is fueled by regular customers. Some students frequent this food truck every day of the week. 
"Some customers come Monday to Friday," Ninh said. "I have some customers that come every day." 
The students who come often have a relationship with Ninh. Callahan gets Lucky Chinese Food three or four times a week. 
"He calls me spicy boy," Callahan said.
"I recently asked for three scoops of hot sauce," Callahan said. 
"He refused to give it to me at first because he said it would be too hot, but now I get it all the time." 
Ninh said that he misses his regulars once they graduate. 
"I have a few kids who came to get food from me for four years," Ninh said. "Then when they leave, they come give me a hug. I say 'oh my kids!' And I miss them."
Senior Ferris Garel gets Lucky Chinese food three to four times a week. 
"It's honestly the most affordable place on campus," he said. 
Garel's order, half chicken finger half sesame chicken with pork fried rice and 2 duck sauce, comes out to $6.50.
Garel said that he will definitely miss Lucky Chinese once he graduates. 
The restaurant maintains a 4.5 star rating on Yelp. Comments mention the generous portion sizes and low prices, as well as commenting on the sunny disposition of Ninh.
Lucky Chinese is one of the few food trucks  on campus. But Ninh, the sole operator, is more than just a food vendor. He is a beloved friend to students.