Faculty, staff and students protest looming budget cuts imposed by UVM leadership
A nearly empty UVM campus erupted with the blasting of car horns as protestors drove their cars around campus, showing solidarity against imposed budget cuts.
The rally held May 14 was led by UVM United Against Cuts, a coalition of UVM students, faculty and community members who stand in solidarity against the administration using COVID-19 to defund academics, according to their Facebook page.
"This is a time of collective pain, and to ask the lowest-paid teachers on campus to shoulder that burden while the administrators take home these huge paychecks seems incredibly unfair," said Associate Professor Sarah Alexander, a member of UVM United Against Cuts.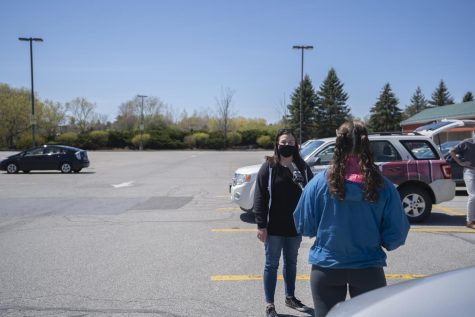 In April, deans sent memos to their respective colleges announcing changes for the 2020-2021 academic year due to the financial challenges brought on by the COVID-19 pandemic.
This included an announcement by William Falls, dean of the college of arts and sciences, that all non-tenure track faculty in CAS will work 25% less next year for 25% less pay.
"I am a single parent and will be working full time and have a 25% reduction in my salary," senior lecturer Rachel Montesano said. "It will put my family below a livable wage in Vermont."
Montesano, a senior lecturer without tenure said she recognizes the importance of putting a name to a story, which is why she chose to speak at the protest while also recognizing that some non-tenured faculty are afraid to speak out.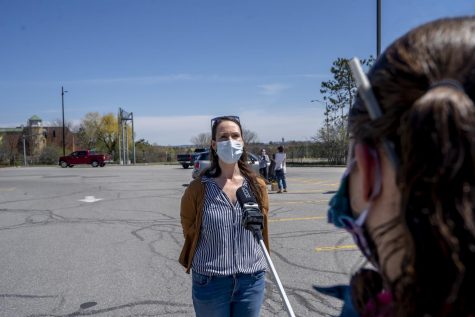 UVM President Suresh Garimella said at a May 11 press conference that the administration has not imposed pay cuts per se.
"This is something that we should all be honest about reporting on," Garimella said. "Yes, some of these folks will be making less money, but they will be teaching less."
However, some professors slated to teach four courses in the fall will be teaching full time with only 75% compensation Alexander said.
"Because everyone registered for fall classes a few months ago before these cuts happened, they decided not to cut from the fall semester, so lecturers are now going to be teaching 4 classes in the fall and 2 in the spring," Alexander said.
In a memo sent May 7, Falls stated that faculty can't be paid full time in the fall and part-time in the spring because it would negatively affect their benefits provided by UVM.
Excerpt from May 7 memo from Dean Falls: 
"Some faculty expressed concern about the fact that NTT who are reduced to .75 and will be teaching four courses in the fall are being paid at .75 rate across the year, rather than a full-time rate in the fall and part-time rate in the spring. We confirmed with HR that this is not an option not least because it would negatively affect faculty member's eligibility for benefits in the spring."
"This is a really difficult situation for lecturers. They're teaching full-time work for 75% of the pay," Alexander said.
Alexander said that she hopes the rally pushes administrators to reverse the cuts and restore full pay to all lecturers in the college of arts and sciences.
She also said the coalition wants UVM to open the books so that the community can see if cuts are necessary.
"If there are shortfalls, they should be made from the top," Alexander said.
The protesters gathered in the empty parking lot outside of the Staples just over the border in South Burlington.
From there, in one large procession, they drove down Main Street in Burlington in a loop past UVM President Suresh Garimella's house as well as the side of the Waterman building.
As protesters drove their faces all wore different expressions. Some drivers were cheering and waving, others had solemn expressions as they held their signs out the car window.
After an hour of driving protestors parked their cars in the parking lot behind the Waterman building, home to UVM's administrative core, to rally.
When asked to describe the energy felt in the Staples Parking lot, Alexander said there was an energy of solidarity in the air.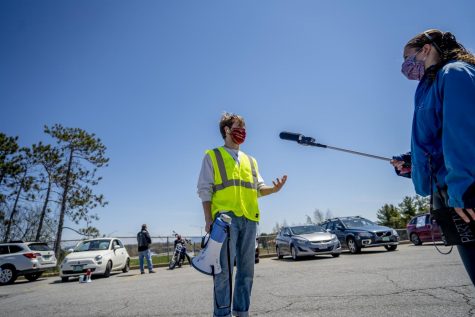 The energy of solidarity was felt by more than just Alexander. Junior Cobalt Tolbert, one of the leaders of the protest, recognizes that his quality of education is dependent on how his professors are treated.
"I am here to try to stitch together that solidarity between students, faculty, and teachers and staff," Tolbert said.
Alexander said the protest isn't only about pay cuts, it's bigger than that.
"It's not just about some people losing their pay. It's about the integrity of the community, the quality of the education that we can deliver to students that we truly care about."
Students are joining the coalition because they recognize that the quality of professors' life and their personal education are not mutually exclusive, Tolbert said.
"I am here because our student interest is deeply intertwined with the wellbeing of our teachers," Tolbert said.
All deans will take a voluntary 8.3% reduction in salary, while associate deans and department chairs have also agreed to reduce their administrative stipends.
"Most of the administrative ranks have taken a pay cut, and yet many of us are working well over 100% of our time," Garimella said.
Leave a Comment
About the Contributors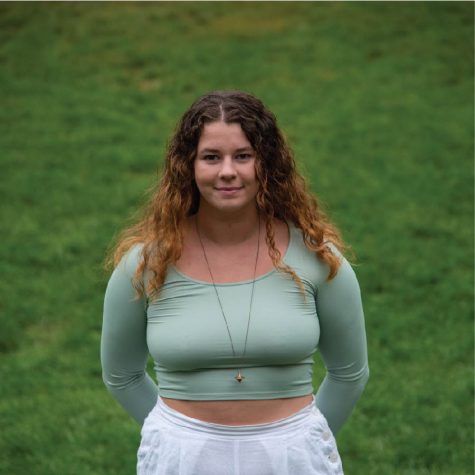 Kate Vanni, Editor-in-Chief
(She/her)

Kate Vanni is a senior Communications Design major with minors in Applied Design and Studio Art. Before becoming the Editor-in-Chief, Kate...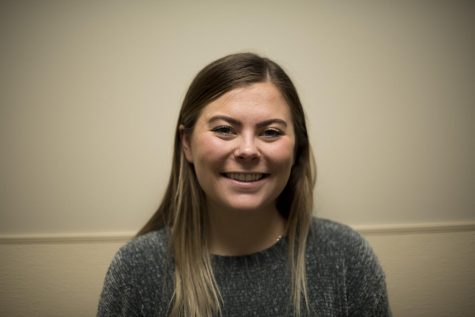 Emma Pinezich, News and Sports Editor
Emma Pinezich is a senior Political Science and French double major from New York. She started working for the Cynic as an illustrator in her first year...