Student food pantry opens its doors to all UVM students
A low barrier, on-campus food pantry for UVM students has opened its doors after nearly two years in the making.
Rally Cat's Cupboard, an on-campus food pantry, opened Feb. 24 in the Hills Agricultural building. The project was started by former SGA President Ethan Foley, a senior, after a study was released identifying that 1 in 5 UVM students are food insecure.
SGA President Jillian Scannell, a senior, has been looking forward to the food pantry's opening for months.
"I can't even put this into words," Scannell said.
To access the food pantry, students just need to present a valid UVM ID.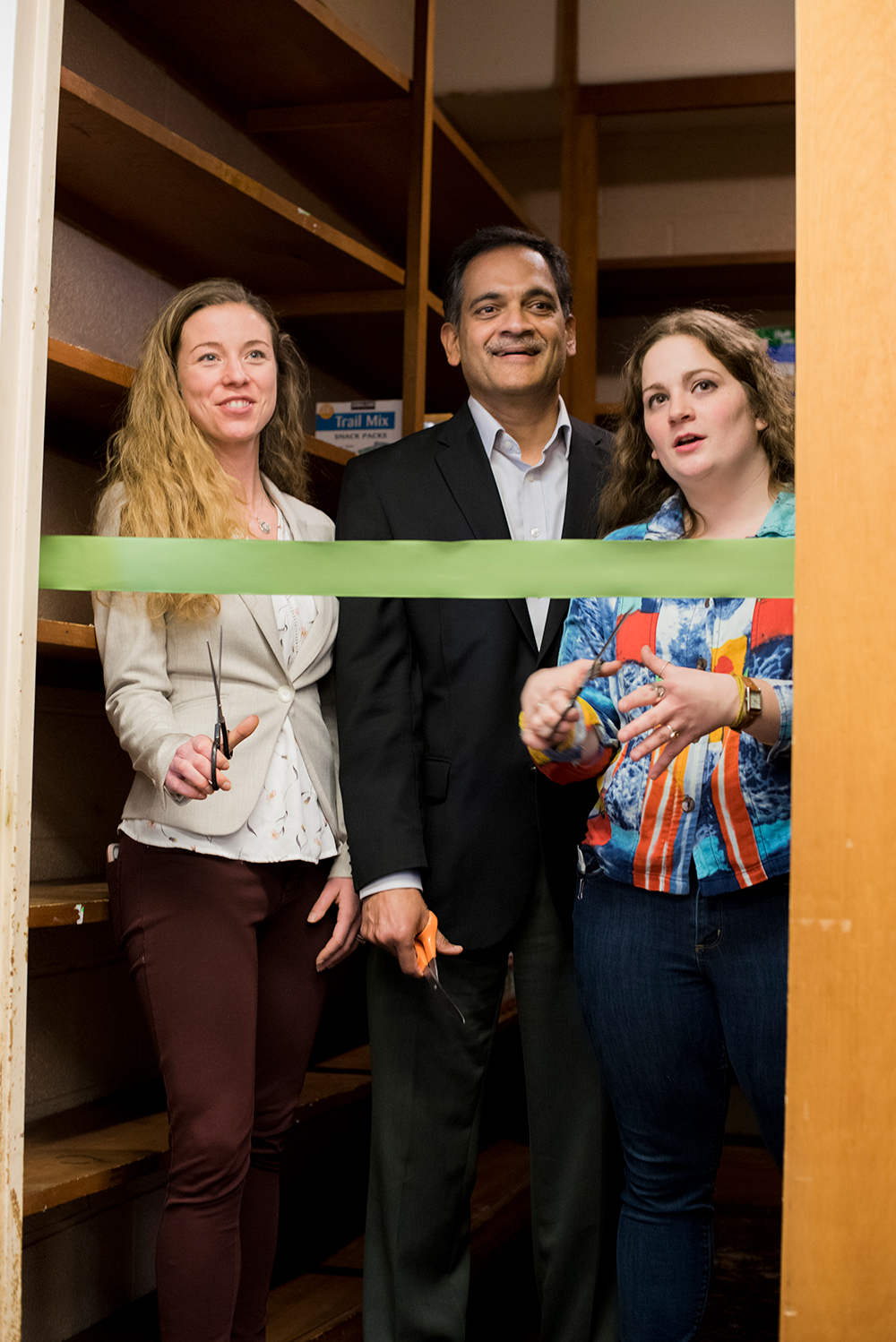 The pantry has only been open officially for one day but has already seen students come through, Scannell said.
"I was excited that right up front, we've already served seven folks," Scannell said. "Right at 4 p.m., people were hanging around, and were like 'is this open? Can we come in?'"
UVM President Suresh Garimella said he was thrilled by the initiative students took to create the pantry.
"It's really impressive that there was a group in SGA that got this going," Garimella said. "And were very focused and didn't let anything stop them."
The pantry will be open on the third Monday of every month, but Garimella is hoping that the pantry will open more often and that people will use the pantry.
"It will be a little unrealistic to expect that somehow all food insecurity will go away," Garimella said. "But at least there is a beacon of hope for those that are feeling pretty defeated. Hopefully, they'll come here. Hopefully, the word gets around."
There are tons of people in the community who want to support things like the food pantry, Garimella said.
"I hope people will come out and provide some support and fun, giving to these kinds of efforts," Garimella said.
Although Garimella said he hopes the pantry will have more hours, what is more important is having consistent hours.
"I think regularity and dependability are probably more important to me than say, being over [certain] hours," Garimella said.
Dietician Nicole Reilly, a co-chair for the Food Insecurity Working Group, has been working with SGA to help open the pantry.
"We've been really excited to start with a pantry," Reilly said. "But it was a lot of work to get it up and running, and SGA last year really took this under their wing, and we're so excited."
What the final outcome of this project would look like was unknown at the start of the process, but ended up becoming Rally Cat's Cupboard, Reilly said.
The process to set up the pantry has been in the works for a month, and Scannell said she is excited to see how the pantry is going to operate. She is also looking forward to seeing how it grows.
"We just got a $1,000 Sodexo grant, which we took to Costco to fill the shelves," Scannell said. "We're hoping to partner with local farms and get green produce here."
The pantry will join the Vermont Food Bank Network, which will be the first college in Vermont to do that, Scannell said.
"It'll provide us a lot of opportunities to get wholesale food," Scannell said. "But then [we] can get some frozen food too."
Students have already given Scannell suggestions on other foods they hope to have in the pantry.
"I don't really hope the food starts flying off the shelves, but I want people to use it," Scannell said. "I want people to know that we're here. We want people to come in and feel comfortable."
Leave a Comment