Your latest COVID-19 updates
Graduation ceremony uncertain, new grading options and a makeover for Patrick Gym.
As the spring 2020 semester progresses with six weeks left before summer break, COVID-19 continues to impact UVM students, faculty and Burlington residents.
Graduation ceremony for the class of 2020 is uncertain
For the UVM graduating class of 2020, the regularly scheduled commencement ceremony, scheduled for May 17, has been canceled.
Though the University sent out a survey to graduating seniors regarding a "re-envisioned" commencement celebration, no exact plans have yet been made, according to an April 3 email from UVM President Suresh Garimella.
"We are using your input to help inform the best way to acknowledge and celebrate this important milestone," Garimella's email stated. "While this isn't the send-off you deserve, I know you will move through the next several months with determination and optimism."
New grading options
The University has also implemented a pass/fail grading system for students who wish to change their class grades from a percentage-based system.
Patricia Prelock, provost and senior vice president, announced the change in a March 27 email to students.
"Letter grades will be recorded for the semester. Students will have the option to elect Pass/No Pass (S/U for graduate students) by May 14 at noon," the email stated.
A "pass" is defined as anything above a D- letter grade, while a "no pass" is defined as anything below, according to the Academic Support Accommodations for Spring 2020 website.
According to the site, students will also be able to pick and choose which classes they want pass/no pass. Neither pass nor no pass will affect students' GPAs.
"GPA will be affected in different ways depending on how many courses you move to P/NP, what your remaining Spring 2020 grades are, what your original GPA is, and how many credits you have already taken," the site stated.
Students should carefully weigh these options as the May 14 deadline approaches, the email stated.
"Students are advised to consult with their academic advisers and Student Financial Services to understand the full consequences of their decisions for their particular academic major, graduate school candidacy, financial aid standing, and career path," Prelock's March 27 email stated.
Impacts felt on campus
At the UVM Medical Center, at least 22 medical staff members have tested positive for COVID-19, according to an April 5 Burlington Free Press article.
Sick medical staff members have access to two weeks of paid sick leave under a federal program, and are able to apply for worker's compensation or short-term disability, the article stated.
As a back-up plan, back up staff is in place for every department and disaster planning drills are frequent, the article stated.
In the UVM Physical Plant and custodial services departments, only a few staff members remain as essential workers, according to an April 6 email from Gary Derr, UVM vice president for operations and public safety.
"The Physical Plant staff will be focused only on critical operations," the email stated. "Physical Plant will also conduct routine walkthroughs in all campus buildings to verify proper operations."
Alcohol-based hand sanitizer is also back in stock and non-alcohol sanitizer dispensers will be refilled and marked as such.
UVM gym now "surge" site
UVM's Patrick Gym has been converted into a makeshift medical site in anticipation of a potential surge in COVID-19 cases.
The gym looks much different now as green tarps, medical beds and other medical equipment have transformed the space.
The gym's new look is to help the UVM Medical Center weather the storm if the hospital hits capacity.
The gym holds at least 50 beds currently but could be increased to 100 beds, said Dr. Erik Anderson, one of the two doctors in charge of the surge center.
Anderson said Vermont is expecting a surge in the foreseeable future, so the center will be fully functional starting April 13.
Kate Vanni contributed to reporting.
Leave a Comment
About the Contributors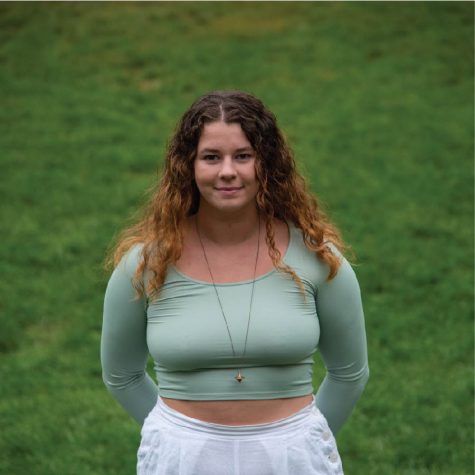 Kate Vanni, Editor-in-Chief
(She/her)

Kate Vanni is a senior Communications Design major with minors in Applied Design and Studio Art. Before becoming the Editor-in-Chief, Kate...