It's Outdoors Week at the Cynic. Here's why.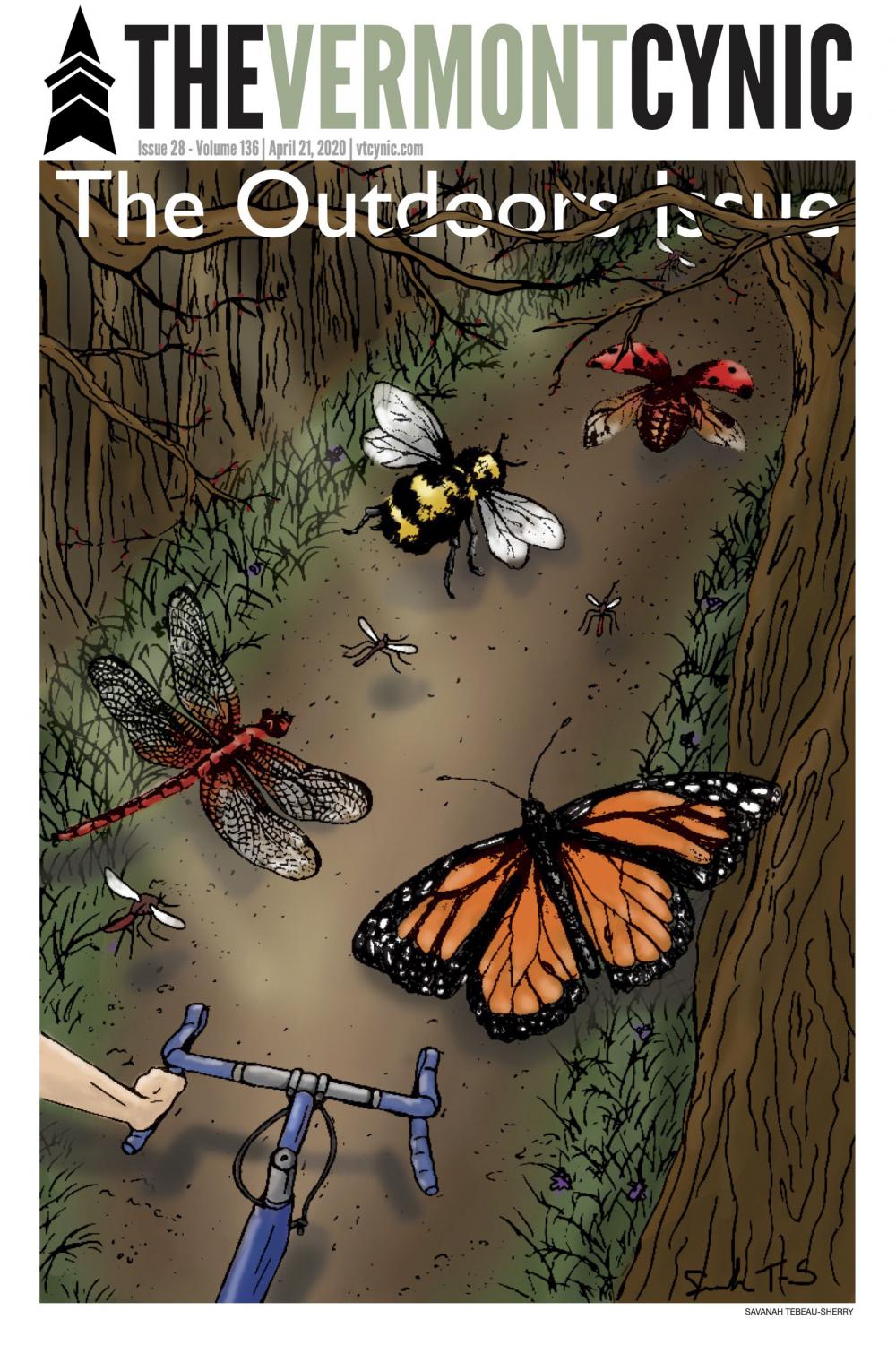 Today we begin Outdoors Week at the Vermont Cynic.
Our staff had been planning the Cynic's first-ever Outdoors Issue since January, and though this is not the way we envisioned it would turn out, we are excited to present it to you nonetheless. 
Cynic illustrator sophomore Savanah Tebeau-Sherry created the stunning front page you see above. We were looking forward to printing this issue in full color and placing it on stands for all to see. 
But the Outdoors Issue has turned into Outdoors Week, in time to celebrate Earth Day, April 22. 
Return to the Cynic website every day this week and follow us on social media, to read about professors who double as endurance runners and students' recent outdoor adventures close to home.
See photos from a walking tour of public art in Burlington and learn how to take care of yourself post-exercise in our latest feature.
For the past month, many of us have been confined to our homes and to our screens, and so any chance we get to step outside is a welcome reprieve.
I personally have a new appreciation for my backyard and for my street. Spending time in those two spaces during the past month has reminded me of the years I spent there growing up: learning to ride my bike, throwing snowballs, building forts, playing tag.
My backyard and my street are where my love for the outdoors first began. 
My time at UVM has only increased my passion for being outside. I am indebted to the Outing Club and to Chicks on Sticks for challenging my body in ways I hadn't thought possible and for further convincing me of Vermont's natural beauty. 
Many of us at UVM care deeply about outdoor recreation and the environment. It's part of what makes us Catamounts. We can see Camel's Hump from Athletic campus and Lake Champlain from Waterman green.
It is for this reason that I ask you to spend some time outside while at home, and to do it safely. It is also the reason I am asking you to take action. 
In the Northeast, due to COVID-19, parks and public lands are closed in many states. While state parks in New York state are open, they are closed in New Jersey and Rhode Island. Ten state parks are closed in Maine and two are closed in Connecticut. 
State parks are open in Vermont, but the Long Trail System is closed. 
Though health and safety should be everyone's number one concern right now, the closure of state parks has caused other challenges. 
My neighborhood is crowded now with walkers and bike riders. It's hard to maintain a six-foot distance on a narrow street, yet it would be much easier in the woods. 
In New Jersey, bike shops are considered an essential business, and are able to remain open. The shop where my dad's best friend is a manager has been busier than ever. 
But in Vermont, a state known for its promotion of outdoor recreation, bike shops are non-essential, and therefore closed. 
While I understand why these decisions were made, I believe many of them deserve to be changed.
If these issues matter to you, I encourage you to sign petitions to re-open state parks and bike shops near you.
As we celebrate Cynic Outdoors Week and Earth Day, I encourage you to call your state officials and let them know you care. The outdoors are a home for everyone. 
Editor's Note: This Staff Editorial was written by senior Bridget Higdon, editor-in-chief.