Prestigious professors concerned about new cuts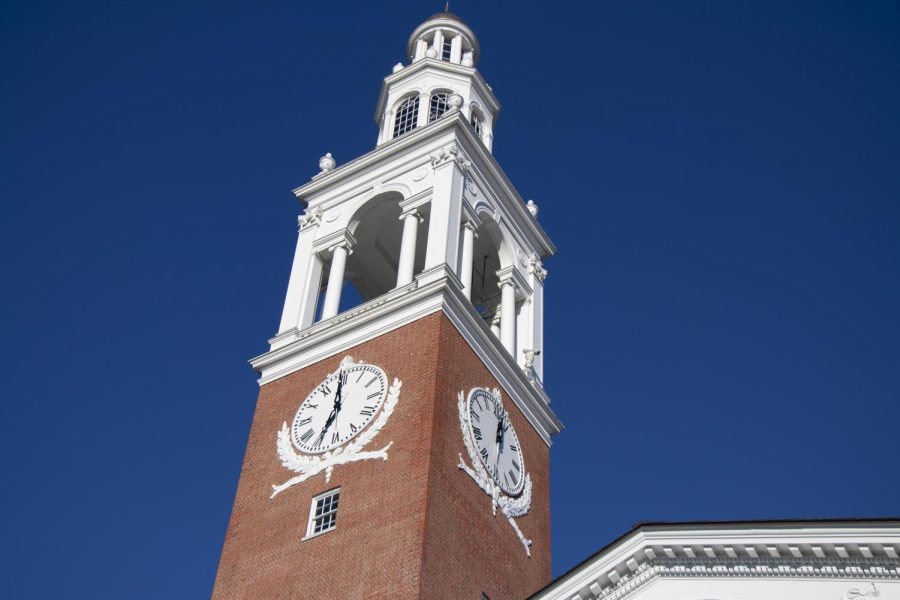 We, the undersigned, are recipients of the University of Vermont's highest awards for teaching, scholarship, and community commitment.
Our group includes winners of the George V. Kidder Outstanding Faculty Award, the Kroepsch-Maurice Award for Excellence in Teaching, the University Scholars Award, the Glen Elder Leadership Award, and faculty occupying endowed and Distinguished Professorship chairs.  Each of these are university-wide awards and recognize the highest levels of pedagogical, scholarly, and institutional achievement. 
We are concerned about the recent decisions, made under the supposed financial exigency caused by the pandemic, that will result in the reduction of more than seventy lecturers to .75 of their expected full time teaching load.  The financial result of these cuts is a 25 % loss in pay for these colleagues, and the academic result is the loss of upwards of one hundred classes. 
The bulk of these classes are taught by lecturers—many of whom have taught here for decades—and several of these lecturers are winners of the Kroepsch-Maurice Award cited above.  
In public, UVM praises "academic excellence," but over the recent years the administration has been increasingly devaluing faculty expertise and educational funding.  The COVID response appears to be an intensification of this trend. These cuts are accompanied by increases in workload demands for all faculty, TT and NTT alike, with consequential pressure on research and time to work with students in need.
If the university continues on this path of indifference to the deep ecology of learning and teaching, it will face recruitment and retention problems with both students and faculty that go far beyond the impact of COVID. 
The cuts the UVM administration has chosen to make—to faculty whose courses are core requirements for all UVM undergraduates, whose courses in many cases are necessary to meet the needs of majors and minors, and whose courses are filled to the brim and receive top evaluations from students—assure that come next year, students' needs won't be met.
Such cuts thus imperil UVM's deeper sustainability. If the administration was sincere about student needs, they would engage in meaningful dialogue with faculty and make any cuts at the highest level and the farthest removed from students and the university's teaching, research, and service missions. As a land-grant institution, UVM has a duty to sustain and support our communities.
The inequity of the administration's plans in a time of crisis undermines this commitment and UVM's duty to Vermont's communities.
We are calling on President Suresh Garimella, Provost Patricia Prelock, UVM administrators and Deans, and the Board of Trustees to act on the principles of sustainability and equity when considering any measures responding to COVID and planning the future of UVM. 
Make any cuts progressive, rather than

regressive

. 

Recognize and sustain our investment in the long-term institutional memory and knowledge residing in all of our faculty and staff. 

Reaffirm the role of faculty governance.

Allow an independent audit of university finances to ensure institutional transparency. 

Reaffirm the values of Honesty, Equality, Accountability, and Responsibility that are ingrained on the granite stones outside the Davis Center.
Lastly, and most importantly, we demand that in a time of crisis the University act as a single entity. We cannot make financial and institutional decisions under the IBB model that forces units to compete against each other. Just as we the undersigned are representative of the entire UVM community, we also share a single University budget and must respond to the crisis accordingly. 
As with the rest of the country, COVID has not just created inequities, it is revealing inequities that have existed for a long time. We believe the other side of COVID is that it has revealed opportunities for just change that addresses standing inequities and creates a more sustainable and resilient UVM and community. 
Eve Alexandra, Glen Elder Leadership Award 2017
JB Barna, Glen Elder Leadership Award 2018
Philip Baruth, Dean's Lecture Award 2010
Mary C. Burke, Glen Elder Leadership Award 2015
Jeff Dinitz, Williams Professor of Mathematics 2016-2019, University Scholar 2008-2009
Sue Dinitz, President's Distinguished Senior Lecturer Award 2017, Kroepsch-Maurice Excellence in Teaching Award 1995
Patricia Erickson, Kroepsch-Maurice Excellence in Teaching Award 2008, NACTA 2006, Carrigan Award 2012, CUPS 2007, STA 2009-2017
Tina Escaja, Distinguished Professor 2019, University Scholar 2015-2016, Kroepsch-Maurice Excellence in Teaching Award 2013, CAS Dean's Lecture 2010
Alec Ewald, Kroepsch-Maurice Excellence in Teaching Award 2008
Elizabeth Fenton, Glen Elder Leadership Award 2013 
Sean L. Field, University Scholar 2018-2019
Toby Fulwiler, Kroepsch-Maurice Excellence in Teaching Award 1993
Michael Giangreco, University Scholar 2013-2014
Robert Gordon, University Scholar 2007
Nicholas J. Gotelli, Kroepsch-Maurice Excellence in Teaching Award 2018, University Scholar 2005, CAS Dean's Lecture 1997
Huck Gutman, Kroepsch-Maurice Excellence in Teaching Award 2004, Kidder 2005
Adrian Ivakhiv, University Scholar 2019-2020, Steven Rubenstein Professorship 2016-19
Major Jackson, University Distinguished Professor & Richard A. Dennis Professor of English
Keith Klepeis, Kroepsch-Maurice Excellence in Teaching Award 2015
Matt Kolan, Kroepsch-Maurice Excellence in Teaching Award 2016
Lokangaka Losambe, The Frederick M. and Fannie C.P. Professor of English 2011-present, University Scholar 2014-2015
Tony Magistrale, Kidder 2001, University Scholar 2010-2011, Kroepsch-Maurice Excellence in Teaching Award 1997, CAS Dean's Lecture 2003
Dennis F. Mahoney, Kroepsch-Maurice Excellence in Teaching Award 2001-02, CAS Dean's Lecture Award 2008, Wolfgang and Barbara Mieder Green and Gold Professor of German 2013-17, Robert V. Daniels Award for Outstanding Contributions to International Education 2014
Frank Manchel, University Scholar 1997-1998, CAS Dean's Lecture 2000
Kathleen Manning, Kroepsch-Maurice Excellence in Teaching Award 1992
Juan Maura, Kroepsch-Maurice Excellence in Teaching Award 2005
Cristina Mazzoni, Wolfgang and Barbara Mieder Green and Gold Professor of Romance Languages,  University Scholar 2012-13, CAS Dean's Lecture 2004
Todd McGowan, Kroepsch-Maurice Excellence in Teaching Award 2003
Maria Mercedes Avila, Kroepsch-Maurice Excellence in Teaching Award 2015
Dianna "Annie" Murray-Close, KM 2019, Kidder 2018, CAS Dean's Lecture 2016
James Murdoch, Kroepsch-Maurice Excellence in Teaching Award 2017
Garrison Nelson, Kroepsch-Maurice Excellence in Teaching Award 2009, CAS Dean's Lecture 2013, Inaugural Last Lecture 2018
Angela Patten, Kroepsch-Maurice Excellence in Teaching Award 2012
Bob Pepperman Taylor, University Scholar 2016, Kidder 2016, CAS Dean's Lecture 2016, Kroepsch-Maurice Excellence in Teaching Award 1995
Kelly Rohan, University Scholar 2017-2018
Valerie Rohy, Kroepsch-Maurice Excellence in Teaching Award 2006, CAS Dean's Lecture Award 2012, University Scholar 2019
Erik Ruggles, Kroepsch-Maurice Excellence in Teaching Award 2019
Lisa Schnell, Kroepsch-Maurice Excellence in Teaching Award 2008
Kathleen Scollins, Kroepsch-Maurice Excellence in Teaching Award 2016
David Scrase, University Scholar 2004-05; CAS Dean's Lecture 2002
Stephanie Seguino, University Scholar 2012-13
Lance Smith, Kroepsch-Maurice Excellence in Teaching Award 2018
Alan E. Steinweis, Raul Hilberg Distinguished Professor of Holocaust Studies
Mark Stoler, Kidder 1984, University Scholar 1993, Kroepsch-Maurice Excellence in Teaching Award 2006, CAS Dean's Lecture Award 1992
Richard I. Sugarman, Kroepsch-Maurice Excellence in Teaching Award 1989, Kidder Award 2oo7
Diana Yiqing Sun, Kroepsch-Maurice Excellence in Teaching Award 2006
Sarah E. Turner, Kroepsch-Maurice Excellence in Teaching Award 2016
Ray Vega, University Scholar 2015-2016
Melissa Willard-Foster, Kroepsch-Maurice Excellence in Teaching Award 2017
Sean A. Witters, Kroepsch-Maurice Excellence in Teaching Award 2014 
Alexander (Sandy) Wurthmann, Kroepsch-Maurice Excellence in Teaching Award 2009
Asim Zia, University Scholar 2020-2021, Vogelmann Award for Excellence in Research 2020