Unpopular Opinion: Give the Grundle a break; it's not too bad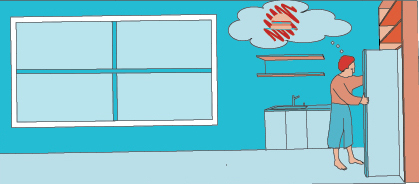 The Grundle, defined on Urban Dictionary as the region between the balls and the arse-hole. Known to UVM students as the university's disgusting excuse for a dining hall. Falsehood, this is.
Come Oct. 1st I'll have called UVM home for a month and a half. Living in Wilks, I've been blessed with Simpson dining hall, a two minute walk away, and not to brag or anything, but a 25 second sprint.
Being a first-year here, I've made lots of small talk with fellow first-years since getting here. A common, unifying talking point is that the Harris-Millis dining hall, known as "The Grundle," is absolutely horrendous. 
This is false. During my on-campus quarantine there was only one place to eat. I chowed down at The Grundle for a whole week straight. Every. Single. Meal. And I loved it.
I have never understood all the hate The Grundle gets. Honestly, I think kids just like to crap on things to assert common ground, and fear going against the grain while navigating the social minefield that is being a first-year. The Grundle, and Calc homework, both things UVM students love to trash to make conversation. We are better than this. Not everything needs to suck to be funny.
On Sept. 27th I decided to venture past my beloved Simpson Hall and into Harris-Millis, to see if things had somehow gotten as bad as my peers had described.
I looked around to scout out the menus for lunch and came across the infamous Mansfield Grill. My eyes scanned the chalkboard and I was delighted by my options. They had everything I could ask for, black bean burger, chicken sandwich, french fries, and a cheese burger. That's right The Grundle's got cheeseburgers, and they put Central Dining's to shame. 
And seriously, what makes Central so special? I will concede that they definitely have the best salad and vegetarian options on campus, but aside from that it's bang average food. I think people rave about it because it looks fancy and they confuse this with the quality of their meals. 
The Grundle's food quality, aside from their pizza, dare I say is on par with Central's. 
Coming from California, this fall I wondered how I would get my In-N-Out fix and gave up hope when I learned that Five Guys on Church Street had closed. Harris-Millis has filled this gap for me. 
They're cheeseburgers are seriously that good, I urge you to give them a try. 
I'm also fairly positive that it's the only dining hall on campus with Almond breeze. As someone who attempted to go vegan for a week, I appreciate this option. And I'm sure actual vegans do too.
It's also a very spacious dining hall, Central and Simpson are both great but also extremely busy at times. When you enter The Grundle you're guaranteed to find a seat for you and your friends. 
Also, the faculty and staff at Harris Millis are some of UVM's sweetest people. Whenever I walk enter the building, the staff members always seem glad to see another student and tell me to have a great day. It's the little things.
But, most people's complaints about The Grundle are not about the seating or the faculty, it's about the quality of the food. And I hear you, the main area called "Fresh Healthy" can get really iffy. I was told by an avid Grundle-goer to always steer clear of this area, and that the pizza can upset your stomach for days.
So, I get it, I'm not here to tell you all The Grundle slander is unwarranted, some of it is. But people have made it out to be so much worse than it actually is. 
This is what they had this Saturday at "Simple Servings" which I've heard students call "Safe Servings." Their menu consisted of glazed ham, lentil swiss chard and some okra sauteed with tomato. All looked super tasty. 
The Grundle also keeps plates out with fruit on them for students to take at any time. This is by far the most accessible fruit on campus. 
 At many of the other dining halls you have to wait in line for fruit, which usually discourages me from getting any at all. At my Grundle breakfast today I had a banana with some wonderful french toast, a great way to start the day.
I truly think if you hadn't heard so many complaints about Harris-Millis dining one would go there, shrug their shoulders and say, "that was okay." It's solid food, and they're open at almost all hours of the day. Your one swipe away from a good meal at any time.
So stop bad-mouthing The Grundle, and glorifying Central. If you hate it so much why waste so much time on it.