Why we should all be reading more news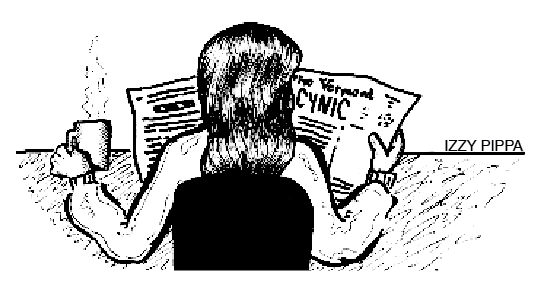 When I was younger, my favorite thing to listen to on the radio was "Wait! Wait! Don't Tell Me!" on NPR, and my favorite TV show was Rick Steves' Europe travel review on PBS.
I know I must sound like the lamest 7-year-old ever, but my love for NPR and PBS has now helped me appreciate the importance of loving the news.
It's an interest that has been lost on the American people in recent years, and I think it's something that needs to be changed. Quickly.
A lot of people's reasoning for not reading the news is that the news is too depressing, and they don't want to put themselves through that.
And I get it. No one wants to participate in something that upsets them, particularly if they don't have to.
But at the same time, it's not a good reason. If I avoided everything that made me sad or angry on a daily basis, I'd never leave the safety of my bed.
I don't mean to be insensitive, but at some point we're all going to have to dig our heads out of the sand and acknowledge the reality of the world.
Reading the news is the best way to inform yourself and others. Maybe at the breakfast table, you and your siblings can discover a way to keep Russia out of our elections. We can literally only go up from here.
Start small. Check out one or two stories about something that interests you in the world, or in your country, or even your own town.
As of 2016, there were 1,286 daily newspapers being published in the U.S., according to a 2018 Pew Research report.
News also is a big decider in how we vote. The whole point of a free press is to allow people to make informed, unbiased decisions about how they want the government to be run.
A lot of my friends and classmates didn't vote in the midterm elections because they felt they didn't know enough about the candidates or issues to have a valid opinion.
But we live in the 21st century, where information is more available than ever.
The cost of information is at an all time low, and yet the consumption of this information is slipping.
Major newspapers such as The Wall Street Journal and The New York Times provide three free articles a month for non-subscribers. The same newspapers cost $2.50 to buy in print.
The student subscription to NYT is actually 99 cents for the first month, according to their website.
So, if you spend $3.99 for the student subscription to Spotify Premium, you have enough money to buy a newspaper.
And the cost of information isn't just about money. It's time as well. My problem used to be that I thought I didn't have time to sit down and read an article.
If you have time to send your Snapchat streaks in the morning, you have time to read the Morning Briefing from The New York Times.
If you have time to listen to your music on the walk to class or work, you have time to listen to NPR, or VPR or a podcast about the day's news.
Read the Vermont Cynic. We're completely independent from the University, totally student run and 100% dedicated to bringing you the school's best news with very little personal reward.
It can't only be my parents and their Facebook friends that keep our fan club alive. So pick up a copy every Tuesday, or check us out online.
Let journalism do its job, and fulfill your duty to stay informed.