Defending a legacy: Vermont based Men's Soccer captain on the season ahead
Lucas Shaw was born and raised a Catamount. Both of his parents graduated from UVM, and he grew up just down the road in South Burlington.
Shaw is now a senior at the University studying business administration and is one of four captains of the men's soccer team.
A defenseman entering his third season with the team, Shaw has high aspirations for this year's squad.
"I think our number one goal is definitely to win the conference," he said. "And hopefully by the time postseason starts, really get on a roll and at least try to make a run to the final four or elite eight."
This year brings in the most first-year players since the 2010 season, so much of the beginning of the season was focused on establishing connections between teammates, he said.
Shaw is very impressed by the tenacity and determination he sees in the new players this year, he said.
"They're [first-years] definitely a bunch of really hard workers, and there's definitely a lot of talent from the class," Shaw said. "The great thing about this class is that there are no weak links so the training level has been really high."
Although the team lost two games early this season, Shaw feels optimistic that a winning streak is coming. He said a turnaround seems promising now after the team claimed a 4-2 victory against Harvard University Sept. 13.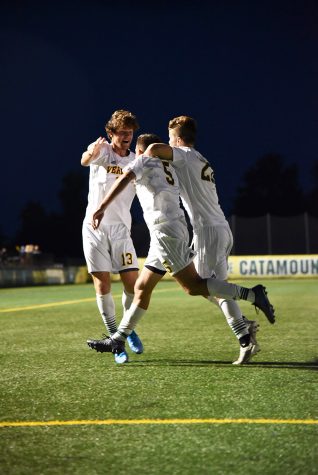 Shaw said one of his favorite parts of being on the team is getting to meet people from all over the world.
"The best part is having a bunch of friends internationally…there's a bunch of players from Iceland and Germany this year," Shaw said. "Off the field, the gu
ys just interact so well with each other, it's fun."
When he isn't playing soccer or focusing on academics, Shaw also enjoys skiing. He shares this passion with his father, who skied for UVM's varsity team in 1984, he said.
Both of Shaw's parents are UVM alumni, and he grew up watching UVM soccer games from the sidelines since he was five years old, he said.
Since 2017, his first season for the Cats, Shaw has played in 19 games, including six starts. He even scored his first UVM goal this season in a home contest versus Iona College Sept. 6.
In 2017 Shaw had one shot on goal and played in nine games.
In 2018, Shaw had two shots, none on goal and played in seven games.
The Cats have upcoming games at Siena College Sept. 16 at 3 p.m. and at home against Merrimack College Sept. 21 at 7 p.m.
Leave a Comment