Hip-hop supergroup Beast Coast to headline SpringFest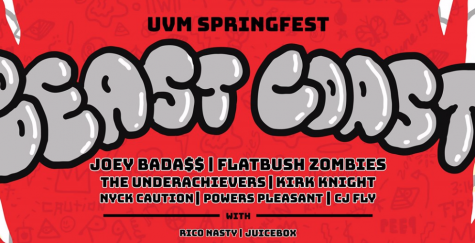 The UVM Program Board announced the headlining performers for SpringFest 2019 across their social media pages, April 2.

The outdoor concert will feature Beast Coast, a rap collective that includes Joey Bada$$, Flatbush Zombies, The Underachievers, Kirk Knight, Nyck Caution, Powers Pleasant and CJ Fly.

Rapper Rico Nasty will open for the group, as will student band Juicebox.
After a successful collaborative tour in 2013, rapper Joey Bada$$, hip-hop group Flatbush Zombies and duo The Underachievers are back with new music and an expanded lineup.

Beast Coast's debut track "Left Hand" features verses from a total of nine different MCs, including Flatbush Zombies' Meechy Darko, Zombie Juice and Erick Arc Elliott, Pro Era's Joey Bada$$, Nyck Caution, Kirk Knight and CJ Fly, plus the Underachievers' Issa Gold and AK The Savior, according to a March 12 Rolling Stone article.

Rico Nasty recently announced a new project set to come out in April titled "Anger Management," according to a March 25 Fader article.
Juicebox, a student jazz and hip-hop band, who competed against 18 other student groups in UVM's Battle of the Bands, will open the concert alongside Rico Nasty.
SpringFest will take place at 1 p.m. Saturday, April 27 in the Jeffords Parking Lot. Tickets are on sale now. Tickets are $10 in advance and $15 the day of the show.