Caring for cows: students experience farm life at UVM's dairy barn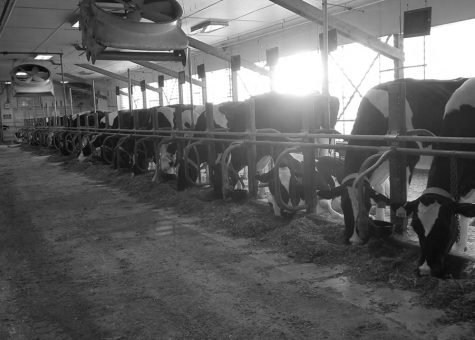 In an experience that seems unique to going to school in Vermont, a UVM program allows students to witness the birth of a calf and to name it.
"Everyone in the program gets to have a calf, and it gets to be your calf," senior Ariela Burk, a member of the program, said.
UVM's Cooperative for Real Education in Agricultural Management is a student run dairy herd that has been operating for about 31 years.
The dairy herd consists of about 100 cows, 48 of which are being milked at any given time.
The herd is made up of Jersey and Holstein cows which were bred to be very good milk-producing cows, according to the program's website.
Senior Sam Keum said she thinks the CREAM program is well known to UVM students.
"All students should try it out," Keum said. "You don't have to be an animal science major to do it."
Animal science lecturer Norman Purdie oversees the program.
"CREAM originated for students who wished to go back on a farm," he said. "For students from Vermont who wanted to go back on a farm and who wanted a different experience then they might have gotten at home."
Purdie said he considers himself an adviser  and that he believes his role is to help students make the correct decisions.
"I am a facilitator of those decisions and I won't stop a student from making those decisions unless it hurts a cow or it costs us a lot of money," he said.
Purdie wants his students to get a chance to learn from their mistakes and learn the best way to run their own dairy herd, he said.
CREAM has programs for students both throughout the year and during the summer. Purdie said winter weather conditions do not affect the program at all.
"The barn is heated, the floors all have underfloor heating, so do the walls. The cows stay inside and have a beautiful temperature controlled environment," Purdie said.
"Big huge snowy days may make it hard to get feed to the cows but we have tractors and snow plows."
The UVM Dairy Barn is located on Spear Street, a mile from the UVM campus.
Both Keum and Burk described their daily summer schedule as "hectic" and "sleep depriving" but ultimately worth the work and the time.
"It is a very introspective experience with so much to learn," Keum said.
Keum and Burk said that this program was an immense learning experience that is very demanding, but ultimately equally as humbling.
There are typically 14 to 16 students that are a part of the CREAM program and each student is assigned to a specific farm task such as vet liaison, who will communicate with and lead the others in the program.
CREAM expects each student to put in about 20 hours of work per week.
Students attend calfings where calves are born and help the mother cow through labor.
Students are also responsible for cleaning the cows, feeding them, and maintaining the state of the barn.
"The group gets really close, you can't really not when you're milking cows together at 3 a.m.," Burk said.
Keum said one of her biggest takeaways was that she gained a lot of respect for the work that dairy farmers do.
Burk  said to prospective students should just do it, try it out, if you don't like it, stop.
"CREAM is a unique animal experience for animal science and non-animal science people, Burk said. "The hours and the proximity creates an incomparable exercise in teamwork, perseverance and communication," Burk said.