Students bake Challah bread to aid in hunger relief
A small group of UVM students convenes in the kitchen of Hillel every Monday after dark. The oven light blinks, signifying go, and they start to knead, braid and bake.
These students are a part of UVM's Challah for Hunger, an organization founded in 2013. They raise money to provide hunger relief across Vermont and the U.S. by baking and selling challah, a traditional Jewish bread.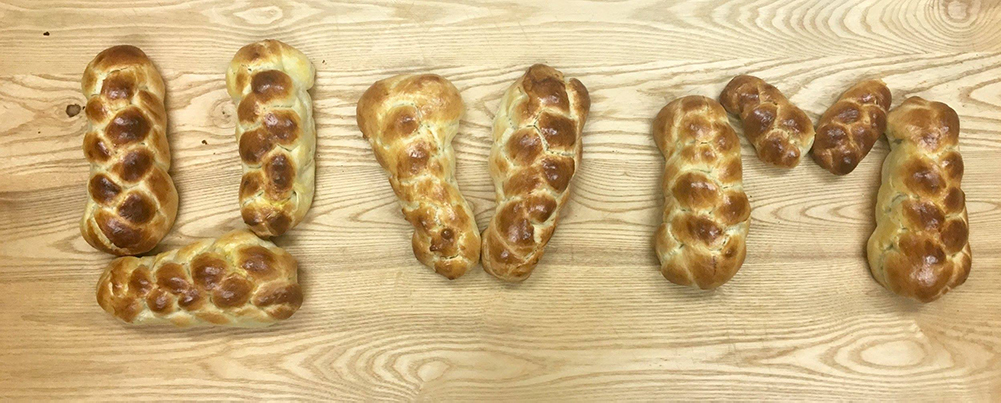 "[Challah] is our holy bread, the bread we eat on holidays," said junior Jessie Finkelstein, a member of Challah for Hunger at UVM. "It made sense to begin using that to make a difference in the everyday world."
In the fall of 2017, Challah for Hunger raised a total of $1,000 for its affiliates, according to its Facebook page. They baked over 470 challahs in five different flavors: plain, chocolate chip, cinnamon sugar, rainbow sprinkle and Kit Kat.
The money raised goes directly to the national organization Challah for Hunger, then gets distributed amongst its nonprofit partners: Hunger Free Vermont and MAZON, a Jewish Response to Hunger.
Hunger Free VT and MAZON are two programs that have been involved in the fight against hunger in Vermont and the U.S.
Hunger Free VT has worked closely with Challah for Hunger for the past five years to tackle local hunger issues, said Monica Taylor, development director for Hunger Free Vermont.
UVM's Chapter of Challah for Hunger has invited Hunger Free VT to several meetings to discuss the current state of hunger in Vermont.
"UVM's Chapter of Challah for Hunger is made up of a strong and committed group of students who come together to better understand hunger in their community and to learn ways that they can contribute to fighting it," Taylor said.
MAZON has a broader focus. MAZON's communication manager Morgan Soloski said MAZON supports anti-hunger and advocacy programs in communities across the U.S. and Israel.
It uses its influence and resources at the state and national levels to help people who are at risk of hunger, Soloski says.
Senior Zach Handelman said Challah for Hunger is a fun, inclusive and welcoming environment.
"The club is always looking for more volunteers," he said. "We love new faces. You can walk in alone or with a friend. We can use all the hands we can get."
Handelman said fighting hunger in Vermont is something we can all pitch in to help with.
"Plus, challah is delicious," Handelman said.
Challah for Hunger tables in the Davis Center to sell their challah. For more information, visit their Lynx website or contact their leaders.