Culture Staff Recommends: fun things to try the next time you get high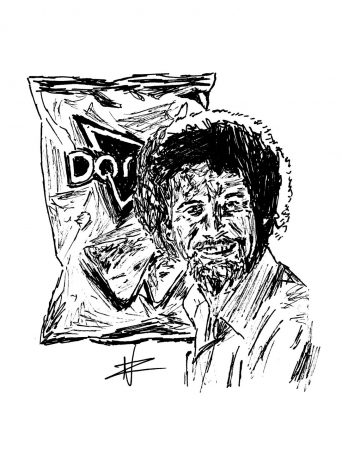 Whether you're toking up on your own or sharing with a group, check out what the Culture staff recommends for high time entertainment and grub.
The Joy of Painting
Jonathan Greenberg
Bob Ross's series is a must watch. No matter your current state of mind, it is impossible not to understand what is going on in the show. Even if you're not a painter, the smooth and calm voice of Ross will lull you into a state of relaxation.
It's amazing seeing a painting start from nothing but a blank canvas and be transformed into a fully finished piece of art.  Even if you don't want to just watch the show it is perfect for background noise.
On Netflix, it's easy to pick up, but harder to stop. And with multiple seasons, you could find yourself spending way too much time watching him make "happy little accidents."
Papa John's
Allie O'Connor
Picture this: it's late, you're high and you're hungry.
The solution? Delectable bites of sweet dough covered in cinnamon and vanilla icing, all packed into a good-sized pan. Papa John's Cinnamon Pull Aparts are the most heavenly dessert imaginable.
I mean it when I say that if I could live off these things for the rest of my life, I would. Warm, gooey and sweet, Cinnamon Pull Aparts are the best cure for the munchies ever.
These little bites are $6.99 per tray, and students can get 40% off their order with the code syco40.
Nightmare Before Christmas
Marjorie McWilliams
After winding down with your drug of choice, I recommend settling down for a satisfactory viewing of director Tim Burton's movie, "Nightmare Before Christmas."
Burton's unique, slightly sinister animations are perfect for experiencing just the right amount of spooky and the delightfully whimsical.
Lay back and relax as a gang of ragdolls, skeletons and ghouls from Halloween Town try and steal Santa from newly discovered Christmas Town.
The plot contains unrequited love, identity conflict and morality questions, as well as other highly relatable content.
Another added plus to this movie is watching the way the skeleton protagonist, Jack Skellington, leaps and bounds in an aggressively acrobatic way which never fails to mesmerize.
Unfortunately, Netflix has yet to catch on that this movie is relevant not only on Halloween and Christmas but a third holiday, 4/20, which is why you won't find it there. However, "Nightmare Before Christmas" can be rented for $2.99 on Amazon Prime.
Wasteland, Baby!
Anna Kolosky
If you're looking for an album to groove to while getting high, I recommend checking out Hozier's newest album, "Wasteland Baby!"
"Wasteland Baby!" alternates between slow songs and powerful jams, providing a wide array of moods to choose from.
In addition, Hozier's soulful voice in each song never fails to disappoint.
He shows off his impressive vocal range by going from his deep baritone to an occasional falsetto.
This album is also full of fantastic lyrics that will have you thinking about anything from fleeting love to the threat of climate change.
Overall, "Wasteland Baby!" definitely delivers with its mixture of meaningful messages and amazing musicality.
Between Hozier's vocal abilities and lyrics, this album will leave you in awe, sober or stoned.