4/20: The past and present of UVM's spring tradition
Cannabis celebration still riding high
UVM's annual 4/20 celebration entered a new era as cannabis possession was legalized in Vermont four decades after the event began.
Even though possession of cannabis is legal in Vermont, UVM's policy about it has not changed, said Annie Stevens, vice provost of student affairs.
"We really follow the federal law, because the University is federally funded," Stevens said. "It's in our best interest to follow federal law."
Smoking cannabis in public is still not allowed on campus, in Vermont or by the federal government, she said.
Cannabis possession is also not allowed on campus, in residence halls or at UVM-sponsored events, according to UVM's website.
The University policy did not deter the students that came out to smoke.
"Clearly they're not enforcing it that heavily," a sophomore said at the event. "It's kind of just luck of the draw who [the police] choose."
Despite UVM's policy, over 100 students came together on Redstone campus to celebrate 4/20.
"There's a nice cloud out here," one first-year said, referring to the smoke rising over the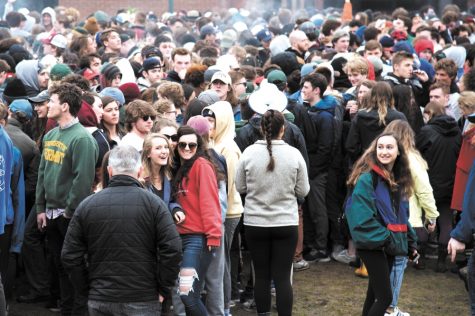 crowd shortly after 4:20 p.m.
A UVM police presence joined the number of students who came to Redstone to smoke.
"They're not being crazy, they're not being pushy," the first-year said. "As long as they're here and we can incorporate them into our society, it's not going to be 'us and them."
Senior Caroline Galliani said she welcomes the police presence.
"It keeps sketchy people from coming in, so it's all UVM students," she said.
UVM police services Sergeant Jim Phelps, who was at the event, said that public safety is the number one priority of the police.
"We just want to make sure everyone is okay," he said.
Not every student appreciated the police presence, though.
"I think [the police] cause more harm than good," said a first-year who was fined at the event. "My citation is justified, but I'd rather they weren't handing them out. It's not fair to single kids out."
Vermont legalized the possession of up to one ounce of cannabis for those over 21 in January 2018. The law took effect July 1, 2018.
UVM Student Financial Services sent an email April 10 notifying students that a federal or state drug offense can disqualify a student from receiving financial aid.
Stevens and Chief Risk Officer Al Turgeon also sent an email April 19 notifying students of UVM's drug policy and warning them of the consequences of breaking it.
"Students who are identified (in person or by video) and found responsible for violating University policy and/or state law could receive a minimum $250 fine," the email stated.
Despite these emails to students, Phelps said that there was nothing different about the police presence at the event this year.
Some students have gotten into legal trouble with UVM police services in previous years, Stevens said.
"Sometimes its been both students who disregard the police in terms of whatever direction they're giving them, sometimes it's simple possession," Stevens said. "So there's been a variety of ways that the University police have intervened."
UVM police services needs to weigh safety of those in such a large crowd with enforcement of policy on 4/20, she said.
4/20 gathering has deep roots on campus
The 4/20 celebration has changed times and places over the years.
Over these years, there has been an ongoing debate about its political intent, said Pat Brown, former director of student life, who retired last year after 39 years at UVM.
The event didn't happen every year, and there were some years where the event took place at North Beach or at 4:20 a.m. rather than 4:20 p.m. as it does now, Brown said.
Drugs first began to emerge on campus beginning in the '60s, according to a February 1969 Cynic article referencing awareness of emerging drug culture.
During the '80s, the 4/20 event gained more prominence on campus, Brown said. He is not sure exactly when the event started, he said.
Drug use lost its political edge in the '80s. Students were focusing more on getting a job than on protesting as they had been in the '60s and '70s, according to the 1982 article.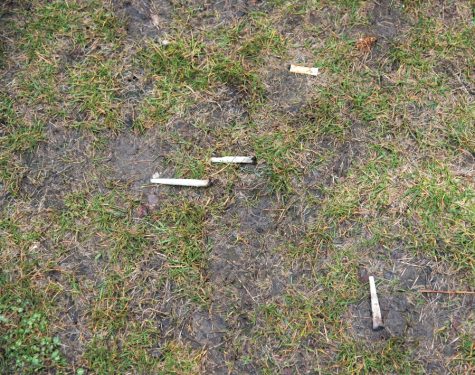 "[Students] would say, 'oh, it's a protest,' and my comment would be, 'well no, it's not. It's a federal law that everyone's concerned about,'" Brown said. "If you were really protesting, you'd be going down to the federal buildings."
Students would tell Brown that they weren't going to federal buildings to smoke because they would get arrested if they did.
He told them that's what a protest is, he said.
In the early '90s, the event began to consistently be held on campus and during the afternoon, he said.
"In front of the library back in the early '90s, I would guess to say half of the crowd was not UVM students," Brown said.
Since then, the University has worked to keep non-UVM students out of the event, he said.
It was often in front of Howe Library in the '90s, Brown said. One year SGA and Student Life put on a concert at that location on April 20, which was the rebirth of SpringFest, Brown said.
This is the only time Brown remembers Student Life programming interfering with the event. Student life has historically not paid much attention to it, he said.
Brown can't pinpoint when the event started to take place on Redstone campus, but he believes it to be within the last 10 years, he said.
Stevens also thinks the event used to be more political since it was intended to get cannabis legalized. In the past 15 years, attendance at the event has dipped, she said.
Since 2016, the Wellness Environment has hosted a 5K at 4:20 p.m. on 4/20. This was created in part to provide an alternative to the 4/20 event, Stevens said.
Leave a Comment
About the Contributors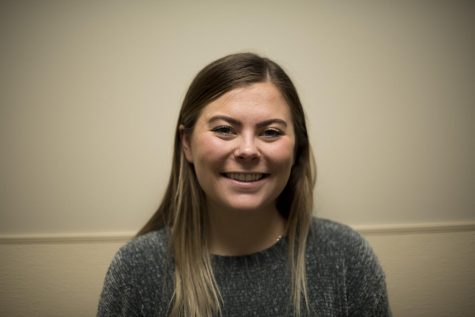 Emma Pinezich, News and Sports Editor
Emma Pinezich is a senior Political Science and French double major from New York. She started working for the Cynic as an illustrator in her first year...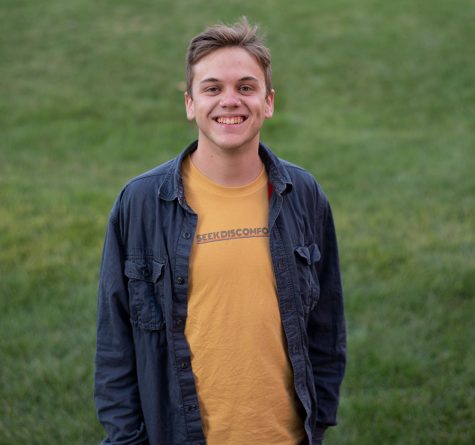 Sam Litra, Social Media Manager
Sam Litra is the Social Media Manager for The Vermont Cynic. Now a junior health sciences major, he joined the Cynic in January 2018 as a staff photographer....