EcoWare losses down from last year
EcoWare loss has eased while the reusable containers account for less of the meals served in campus dining halls, according to Nicole Reilly, UVM Dining's sustainability and campus partnerships manager.
By the end of the fall 2021 semester, 86% of the University's EcoWare supply had been lost, which was an increase from the previous year, according to a Feb. 1, 2022 Vermont Cynic article. For the fall 2022 semester, that number went down, Reilly said.
"Since we moved away from the honor system, we haven't had to purchase any new inventory," Reilly said.
During the last academic year, when dining halls were using a token exchange system, 25% of EcoWare containers were lost, Reilly stated in a Feb. 9 email.
In the fall 2022 semester, there were 14,519 EcoWare uses in UVM dining halls, which accounted for 2% of total meals served, according to Reilly. Fifty-three percent of those uses occurred during dinnertime.
The honor system was adopted during the 2020-21 academic year and was in place until February 2022, according to the Cynic article.
Students could pick up containers freely and were trusted to bring them back because of concerns with COVID-19 and eating in dining halls, Reilly said. If a student forgot their cow tag but felt uncomfortable eating in the dining hall, they wouldn't have to worry about it, she said.
However, the great loss of EcoWare in its first semester on the honor system drove the program to reimplement its exchange system, according to the Cynic article.
"A few days a week we were shuffling EcoWare containers from whatever unit had the most to other locations across campus," Reilly said.
The exchange system was reimplemented with tokens before switching back to the program's original cow tag system in the fall, she said.
As of last year, the program was considering purchasing automated EcoWare return machines, according to the Cynic article. Because of negative feedback about the tokens and the cost to buy the machines, those plans are no longer in place, Reilly said. 
UVM Dining is working with tech companies to explore the possibility of linking EcoWare to a student's CATcard, Reilly said. 
The exchange system has helped resolve problems with waste and loss of containers, said senior Emily Engelhart, the Eco-Reps' food team lead.
"There was a huge problem in some of the trash rooms of people leaving their EcoWare containers there thinking that they would just be picked up," she said. "I definitely have noticed that problem has decreased."
Engelhart said she believes EcoWare or a similar system will always have a place at UVM. Ecoware has been on campus since 2011, according to UVM Dining's website.
"During COVID, EcoWare, a lot of times, would be used if you weren't feeling well, or if you just wanted to stay in your dorm and have a meal," she said. "Now, we're trying to promote use of EcoWare if you're going to be off campus for a part of the weekend or something."
The most important thing students should remember is to return EcoWare on time, Engelhart said.
"Within a few days, there can be an issue of mold," she said. "And unfortunately, a lot of those containers have had to be thrown out for that reason."
Sophomore Tyler Baxter said he believes the program is useful.
"I feel like a lot of people want to [use EcoWare], especially with how sustainable UVM is," Baxter said.
Junior Scarlett Hawpe said she believes the cow tag system increases accountability, and that EcoWare has popularity among its audience.
"It's like a revamp for takeout," she said. "Getting rid of that system would be one the student body would not like."
About the Writer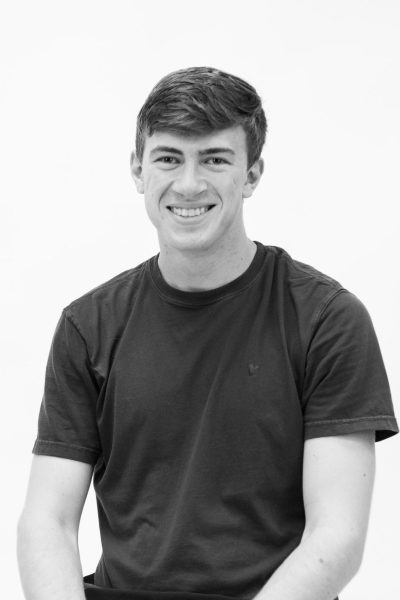 Andrew Gould, News Editor
(He/him)

Andrew Gould is a sophomore mechanical engineering major from Springfield, VT. He started at the Cynic as a news reporter. In high school,...