86% of 5,000 EcoWare containers lost during fall semester
Last semester, 4,300 of the 5,000 EcoWare containers went missing, said Nicole Reilly, UVM Dining sustainability and campus partnership manager. 
The loss pushed the program to stop using the honor system, adopted during the 2020-21 school year due to COVID-19 related concerns, and return to its original token system, Reilly said. The loss of containers last year does not compare to the loss they experienced this fall. 
"The one major difference from last year to this year was that we have more in-person classes, people are definitely moving around out and about more," Reilly said. "Maybe it was harder to return them in a timely manner or maybe people are bringing them off campus." 
The Eco-Reps, student representatives from the Office of Sustainability who work with UVM Dining to facilitate the EcoWare program, noticed a change in student accountability when the EcoWare program switched to an honors system, said junior Nick Bishop, an Eco-Rep. 
"I would have to go through the halls of Mason, Simpson and Hamilton and collect all of the EcoWare that people would put in the trash rooms rather than returning it to the dining hall," Bishop said. 
Even with Eco-Reps locating some of the missing EcoWare in the trash bins across campus, there is still a large proportion unaccounted for, Reilly said. She encourages students to return their EcoWare regardless of how long they've held onto it. 
Eco-Reps made efforts to prevent more containers from going missing by tabling in various buildings and hanging posters around campus to inform students of the importance of returning EcoWare, but it hasn't made a difference thus far, Bishop said. 
Eco-Reps and UVM Dining post reminders and information on both of their social media accounts, as well as including information about the issue in the Eco-Reps newsletter, said senior Ali Drew, Eco-Reps' writing manager. 
"It's obviously disheartening and disappointing to see, but it shows the amount of work we have to do in our generation," Drew said.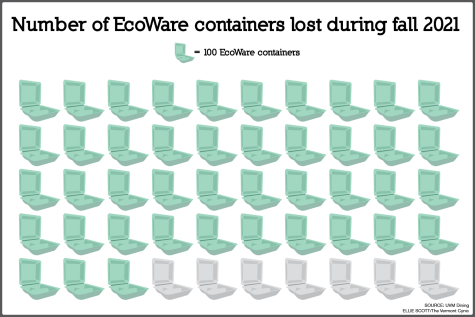 Students have a responsibility to return their EcoWare so it can be reused, or else it is no more sustainable than single use containers and only contributes more to environmental degradation, Bishop said. 
"It really irritates me because a lot of students get mad when they see single use plastics or single use containers on campus for food, but a lot of students don't realize that in order for EcoWare to have a sufficient life […and] be a sustainable option, it needs to get a ton of use," he said. 
UVM Dining's EcoWare initiative partnered with the Office of Sustainability in 2011 in an effort to educate students about single use plastics and reduce UVM's packaging waste – however, last semester's low return rate hindered these waste reduction goals, according to UVM Dining's website. 
Moving forward, the Office of Sustainability and UVM Dining hope to reduce single use plastics as much as possible and to slowly move towards using more reusable products, Reilly said. 
"We are also looking at investing in some new technology to make the return process easier so it doesn't have to happen at the cashier station but could be a machine that you return [EcoWare] to and then you receive a token back," Reilly said. 
UVM Dining and the Office of Sustainability wants to keep the program as low cost and convenient for people as possible, Reilly said. 
UVM Dining has plans to reintroduce the token system this week with the help of the Eco-Reps to educate the student body about the switch, Reilly said. 
The containers can be used up to 1,000 times, according to OZZI's website, the company that supplies EcoWare. 
EcoWare does not get the use they are built to endure when thrown out prematurely, and do not get reused enough to be a sustainable option, Bishop said. 
Reilly requested pricing in December for possible investment towards a pilot program implementing automated return machines, she stated in a Jan. 27 email. The request is awaiting approval from Erica Caloiero, vice provost of student affairs, to determine funding and feasibility. 
UVM Dining plans to reach out to student organizations to get feedback on how the reinstated EcoWare token exchange model is working and whether they believe this new receptacle technology would be helpful, according to the email. 
About the Contributor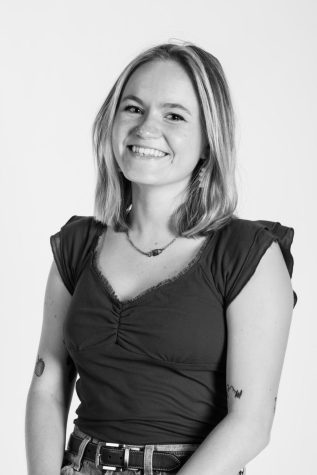 Ellie Scott, Digital Media Editor
(She/her)

Ellie is a senior public communication major from Manchester, CT. Ellie is also an accelerated Master of Public Administration student. This...