New sexual misconduct rules leak
Lee Hughes, Assistant News Editor
September 5, 2018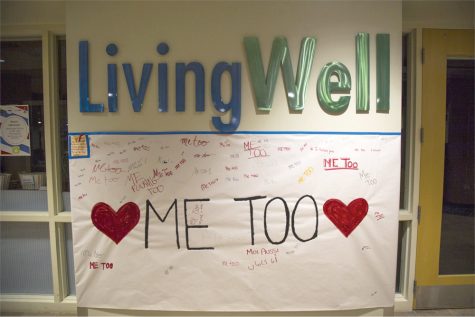 9/12/18 3:18 P.M. This story was updated to clarify a reference to the Explain the Asterisk petition.
On Wednesday, Aug. 29 the New York Times released a leaked, preliminary version of new sexual assault rules for college campuses by Betsy DeVos's Department of Education. The rules come at a time when sexual assault and how to deal with it is a contentious topic of discussion on campuses.
"One the hardest things about being a freshman is learning that those statistics about sexual assault are true and seeing your friends go through those awful, terrible events," sophomore Aidan Doherty, chair of the Student Action Committee on SGA, said.
DeVos's rules would narrow the definition of seuxal assualt and limit who can report assault, while also raising the standard of evidence by which to assess school's actions, according to the Times.
Should they be enacted, the proposed rules would also restrict a school's liability for assaults on campus and encourage punishments for assaulters that keep them in school, the New York Times wrote.
The rules would allow for support for those who do not file written complaints and allows school to change housing, contact between the accuser and the accused, provide mental health services and leaves of absences for the victim, amongst other options, according to the New York Times.
"To roll this back would further the stigma that you can't talk out about [sexual assault]," said first-year Haley Crean. "Most people don't actually accuse their rapists because so much of the system is set up against them."
The motivation behind the changes is to hold schools to the ideal of 'innocent until proven guilty,' according to the New York Times.
"If you really break it down, it allows the university to do less work, it holds them to lower standards and it lets them get away with doing the bare minimum," Doherty said.
Crean said that even the current guidelines are insufficient, citing the asterisk put on transcripts of students who transfer or who are expelled from school because of sexual assault or a variety of other reasons.
She said this allows predators to get away with minimal punishment and then referenced a non-profit called Explain the Asterisk.
"This asterisk only indicates that a student was dismissed: poor grades and sexual assault now look identical in the eyes of an admissions counselor," reads a statement on Explain the Asterisk's facebook page.
Doherty said he hopes that the university will side with victims, not assaulters, and expand upon its support of them, including funding CAPS support for them.
University Communications Director Enrique Corredera,  wrote in an unsolicited email to the Cynic that since no official new guidelines have been released, UVM has nothing to which to respond.
The current guidelines remain in full effect and can be seen in the university's sexual assault and misconduct policy, Corredera wrote.
Nick Stanton, Title IX coordinator at UVM, declined in an email to elaborate beyond Corredera's statement.
Doherty said that often people focus on the legal proceedings and fail to humanize emotional toll of being assaulted, which can be felt in all aspects of a victim's life.
"It's a lot of weight put on that person's heart and their soul," he said.
This comes at a time when students strongly distrust and feel powerless before the university administration and government, and these rules would only make it worse, Doherty said.
"This is just reinforcing that universities and the federal government don't care about them and they're doing what they can to save their own ass," Doherty said. "That's a really scary feeling to feel helpless like that."