Students call for professor to resign over his video claiming white discrimination
Editor's note: This story was updated at 3:05 p.m. March 16.
UPDATE: March 16 In a third video Kindsvatter responded to the call for his resignation, "No, nope, not a chance, never gonna happen, no way."
Kindsvatter went on to ask his fellow counselors who supported the petition to consider how they would respond if he was one of their clients.
"Would you tell me as one of your counseling clients at that point when I came in that I was in fact, racist, in that I would only find salvation when I bought into your ideology, or would you wait until I was doing better, until my symptoms had come back a little bit before you let me know that I was a racist, according to your ideology," Kindsvatter asked.
Kindsvatter ended the video by asking his viewers to share their thoughts but the comment section on the video has been turned off.
UPDATE: March 15 A week after the upload of the video, Provost Patricia Prelock and CESS responded, stating that while the University values the freedom of expression and a person's right to their own worldviews, Professor Kindsvatter's video does not reflect the values of UVM or their community. 
"We will continue to lean into our [diversity equity and inclusion] efforts, and in so doing, create further opportunities to strengthen our community," the email stated. "This event has given us further clarity and resolve about the importance of our commitment to our Common Ground values and DEI work."
The email stated that UVM is immediately taking steps to help students who no longer want to be taught by Kindsvatter, offering alternative courses by different faculty members so the students can still meet their program's requirements.
"We know there is anger, pain, and sadness when the lived experiences of individuals committed to DEI are denied or diminished," the email stated. "We hear you, and we value the voice you are giving to the concerns many of us share about these messages."
Read the original story below:
After a white professor claimed he was discriminated against for his "whiteness," a petition that has garnered almost 1,000 signatures is calling for his resignation.
Aaron Kindsvatter, a professor in the College of Education and Social Services, uploaded a video to YouTube on March 8 titled, "Racism and the Secular Religion at the University of Vermont." 
In addition to the petition, others have spoken out about the video. CESS Dean Scott Thomas said in a statement to the Cynic that Kindsvatter's views are contrary to the values of diversity and inclusion, and members of the counseling department he teaches in said they "vehemently reject" the professor's dismissal of systemic racism.
In the video, Kindsvatter said he strongly opposes new curriculum policies set forth that promote what he calls discrimination against white people. 
"There's a new kind of discrimination on campus that's going on, that I really feel that we need to talk about," Kindsvatter said in the first video. "And I think that everybody is afraid to talk about and this discrimination is against whiteness."
Kindsvatter defines whiteness as a concept that stems from critical social justice.
"It's a manifestation of our most anti-intellectual tribal impulses cloaked in an intellectual veneer," Kindsvatter stated in an email to the Cynic. "It is a way of dehumanizing people in order to meet or gain compliance with political ends."
Kindsvatter stated it's important to note that people of color are not safe from this ideology and those who resist are referred to "in derogatory terms such as mutiracially white."
Forty-eight hours after the first video was released, Kindsvatter posted a second. This one focused on getting his viewers to email UVM officials to prevent his department, the graduate counseling program, from putting in place an anti-racism policy. 
Senior Josephine Mercado, President, and founder of UVM Sisters of Color Started the petition. Social justice work is not a priority for UVM SOC, Mercado said, but as her concern for the safety of her sisters grew as she continued watching Kindsvatter's video, so did her motivation to act.
"I just felt deep deep sadness at the fact this is a UVM professor, this is an educator, this is a counselor. This is someone who is obligated by UVM Common Ground values to protect students, especially the students of color who have been repeated victims…on campus," she said.
Kindsvatter's second video has been removed from his channel, but the first one remains with 12,867 views as of March 14. Feedback to the video from YouTube users has been overwhelmingly positive, with over 1,000 likes and only 135 dislikes, as well as 369 comments—most of which are supportive.
Mercado said she was especially upset with the violent language Kindsvatter encouraged in the comment section of his video, as one of his supporters wrote about how they would treat a person who thinks differently from them.
"In my case, If I'm ever confronted I'm going to tell them to go to hell," one comment stated. "There will be no discussion. And if they persist, I'm going to knock the shit out of them."
Kindsvatter replied, "damn straight."

In an interview with the Cynic March 11, Kindsvattar shared his own definition of racism. 
"Racism is when one person believes that they are superior or inferior by virtue of their immutable race," Kindsvatter said. "That's what the definition of racism is, that is what the definition of racism must always be and the definition of racism cannot be anything other than that."
Marcado disagrees with his definition.
"I would argue that racism is not so much about one race, believing that they're superior to the other, but racism in America is about the systems that have institutionalized policies that have put one race below the other," Mercado said.
Mercado said despite Kindsvatter's job security as a tenured professor, she believes UVM can and should fire the professor. 
"I think UVM has every power in them to remove this professor especially when he's encouraging violence against students on campus," Mercado said.
Thomas did not indicate any action would be taken in response to Kindsvatter's video in a March 10 statement to the Cynic, before the petition was created March 13.
"Professor Kindsvatter's views are his own and are contrary to the values and actions of our college," Thomas stated. "We will continue to ensure that our curriculum and research directly engage the rich diversity of people and contexts we serve."
In a March 12 statement from four members of Kindsvatter's fellow counseling program, they stated that they understood that Kindsvatter's messages were protected free speech but wholeheartedly disagreed with him. 
"We are unapologetic in our mission to train students that are passionately and skillfully critically conscious in their efforts to promote 'equity for all people and groups for the purpose of ending oppression and injustice affecting clients, students, counselors, families, communities, schools, workplaces, governments, and other social and institutional systems," the statement reads.
Despite a request for comment from UVM's upper administration, spokesperson Enrique Corredera deferred to the dean's comment on the matter. 
View Comments (3)
About the Contributor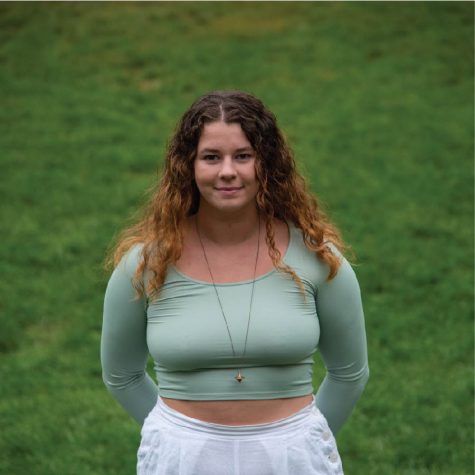 Kate Vanni, Editor-in-Chief
(She/her)

Kate Vanni is a senior Communications Design major with minors in Applied Design and Studio Art. Before becoming the Editor-in-Chief, Kate...