Town Meeting Day: a guide to casting your vote
Today, March 3, is Town Meeting Day in Vermont. Here in Burlington, voters will be electing eight individuals to City Council. Five of the eight city council seats up for a vote are contested. Here's what you need to know to cast your vote:
How to vote:
1.) Look up your voter registration status.
2.) If you're not registered to vote in Vermont and want to be, fill out the online voter registration form on the Secretary of State's website. Or,
2.) You can register to vote the day of the election in Vermont at your polling place. Be sure to bring a document that proves you're you.
3.) VOTE MARCH 3. In this election, you vote for Burlington city councilors, and other Burlington items. You're also voting in the 2020 presidential primary. Two birds with one stone.
4.) Get one of those cute stickers on the way out and make sure your friends vote too.
Where to vote: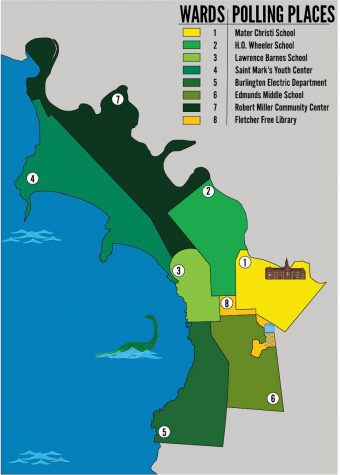 To vote in Burlington, you will need to know which ward you live in. Below is a list of  UVM residence halls  and their respective wards. 
Ward 1 – CCRH, Converse Hall, Trinity Campus
Ward 8 – Athletic Campus (L&L, University Heights, Marsh/Austin/Tupper), Harris Millis, Redstone, Redstone Lofts
Ward 6 – Redstone Apartments
After you have found your ward, on election day, go to the polling place. 
Ward 1- Mater Christi School, 100 Mansfield Ave
Ward 6- Edmunds Middle School, 275 Main Street
Ward 8- Fletcher Free Library, 235 College Street
Election day is March 3. Polls are open from 7 a.m. to 7 p.m.
For a full list of the wards and polling places click here.
Learn about the candidates who are running in contested elections: