Athletes aim to win academic success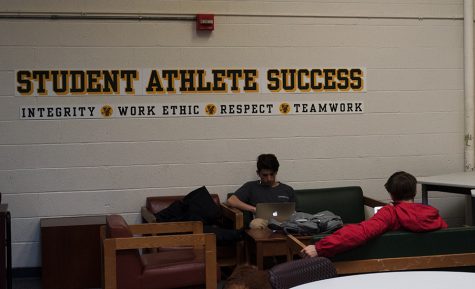 When it comes to varsity athletes, some fans are more concerned with players' performance in a game than in a classroom.
But, to remain eligible to compete, athletes must maintain good grades.
Swimmer Sierra Sexton, a  junior biochemistry major, said that she uses a carefully created planner to organize her time.
"I have a million different planners and calendars in my apartment," she said. "I start studying for tests 10 days out so that I'm cramming as little as possible."
Fellow swimmer, senior Julia DeGregorio, is pursuing a degree in business administration.
She said she also balances coursework and swim by carefully organizing her time.
"I start [my work] early and I always have my planner on me so that I can schedule my study time," she said. "I'll even schedule in naps."
It is easy to tell which athletes are working the hardest in the classroom, said Gary Cournoyer, head coach of the swimming and diving team.
"What I've found throughout the years here is that the better [the athletes] do academically, the more successful they are athletically," he said.
There is a dual emphasis on the pursuit of excellence both on and off the playing field, according to UVM athletics.
Junior Sophia Smith — who is also a swimmer — DeGregorio and Sexton each won All-Academic honors March 20 for their performance in the classroom and the pool, according to UVM athletics.
In order to win the All-Academic honors award, a student athlete must have a sophomore year standing, have above a 3.30 GPA and be a strong team contributor in their sport, according to UVM athletics.
In addition to athletes' practicing their own time management methods, the University does help to schedule their time and get assignments done, said Cathy Rahill, associate athletic director for student-athlete development and academic affairs.
"There are amazing academic advisers in all the colleges who understand the unique stressors on student-athletes and will try to work with us with schedules in relation to practice times," she said.
Sexton said that her adviser works hard to ensure she gets the best balance between academics and athletics.
"My adviser is fantastic," she said. "I have more of a chemistry professor for an adviser than a biochemistry professor, and in terms of any questions that I have, he is really prompt in getting back to me."
Rahill said that professors at UVM really try to work with student-athletes anytime, even when they are away at competitions.
"While they don't give them any extra benefits, they will work with them while [the athletes] are off competing and meet with them during office hours," she said.
At the end of the day, students choose to come to UVM because it is so well-balanced, Cournoyer said.
"Our athletes value the academic component and that's why they chose UVM," he said. "We are able to give them a good balance where we are able to challenge them and be demanding, but also give them an environment where they can be successful academically."