Beginning ski season dispels the winter month blues
Winters in Vermont can be rough, with daily temperatures fluctuating between cold and colder.
One of the best ways to deal with the winter blues is find a way to make the season more fun.
There are plenty of options to choose from, including  ice hockey, bobsledding, ice skating and even competitive ice sculpting.
My winter sport of choice is skiing, a thrilling, downhill sport that's kept me outdoors all winter long for 19 years.
The great thing about skiing (and snowboarding) in Vermont is that there are a wide variety of ski hills to choose from — ranging from high-end resorts like Stowe to family-owned mountains like Bolton.
No matter how long you've been skiing or how confident you are in your ability to make it down the mountain alive, it's possible to find something that suits you.
Senior Mac Rogers' mountain of choice is Smuggler's Notch Resort, which shares Mt. Mansfield with Stowe.
Rogers, who also works as ski patrol, said he goes to Smuggs because it's where he grew up.
"Smuggs is a very 'locals' type mountain," he said. "You get a very local vibe from it. Its ski culture is really cool."
Ski culture at Smuggs is more about having fun than being the best skier or snowboarder, Rogers said.
"It's going up for a few runs, then stopping at 10:30 or 11 to go to the parking lot and have a beer, going back out [and then] barbecuing and hanging out," he said. "It's not just about the skiing."
Junior Kyle King, a snowboarder who goes to Sugarbush Resort, also cited the culture as one of his favorite parts of the sport.
"Everyone's happy to be out there together and wants to be having a good time," King said.
King is the snowboard sponsorship coordinator for the Ski and Snowboard Club.
For me, ski culture is what has kept me coming back to the sport again and again as well.
I've had fascinating conversations with strangers while stuck on a chair lift or trying to find a seat in the crowded dining hall at Sugarbush, my personal favorite mountain.
Of course, as fun as skiing is, it can also be a dangerous sport if you aren't keeping yourself in control or wearing proper protection.
Rogers stressed the importance of staying in control and knowing your limits.
More accidents happen because skiers and snowboarders get injured in the woods or with each other, he said.
"A general fall is not a big deal, especially if you're not going really fast," Rogers said. "But when you lose control and start hitting other things, that's when bad stuff happens."
So, if you're looking for a great way to get outdoors this winter, check out the world-class Ski and Snowboard Club right here in UVM's backyard.
The Clubhaus is open Monday through Friday, 10 a.m to 4 p.m.
About the Contributor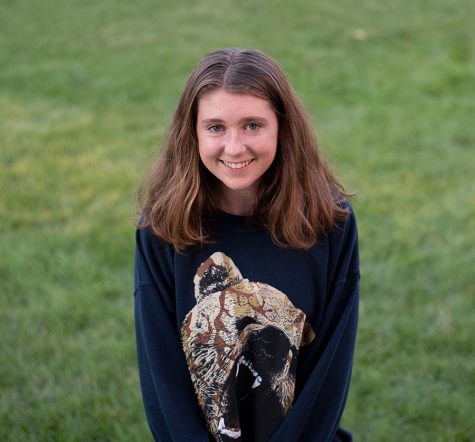 Mills Sparkman, Digital Media Editor
Mills Sparkman is the Opinion Editor for the Vermont Cynic. She is a junior majoring in Political Science from Bristol, Rhode Island, not to be confused...