Club hockey fights for logo rights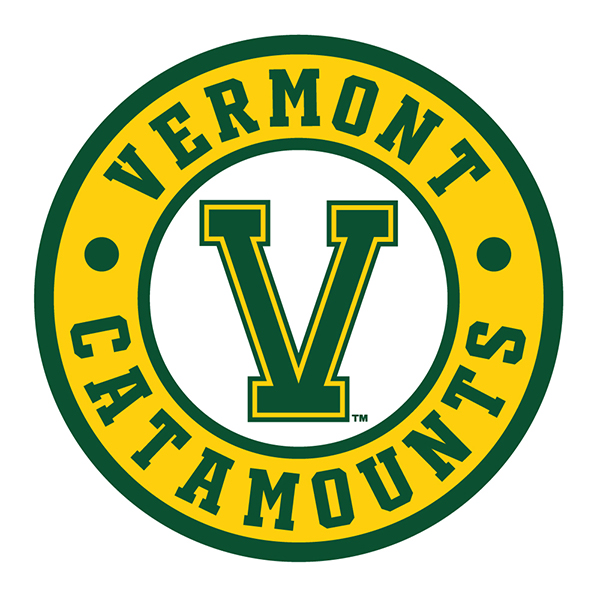 UVM is known as Catamount country. At varsity games, our athletes sport the fighting catamount on their apparel. 
Sophomore club hockey president Andrew Ehler is angry that club sports cannot do the same because of logo use rules, he said.
The split V logo, the V with the catamount in the center, can only be used by the athletic department and retail, including the UVM bookstore, Walmart, etc., according to the UVM Trademark Licensing Guide.
Club sports and other entities that are not varsity sports or retail can use the UVM logo and the circle logo with Vermont Catamounts around it. The catamount just can't be anywhere on these logos.
In 2013, Learfield Licensing recommended that UVM should differentiate between varsity athletics, club sports, campus recreation and other clubs.  
This was done in order to be as clean and as consistent as possible for brand recognition, said associate athletic director and university licensing director Krista Balogh.
"Looking around campus and seeing all of our varsity athletes, club athletes and club participants in all of the same gear does not differentiate," Balogh said.
Learfield said to protect varsity the V-cat logo, she said.
Club sports, including men's club hockey, used to have permission to wear the catamount.
"Prior to 2013, we had white jerseys with the 'V-cat' logo that said club at the bottom," president of men's club hockey Andrew Ehler said. 
The team used their budget to pay for new uniforms, he said.
After this change, club sports had the logos designed for all club teams so they wouldn't have to pay for it themselves, Ehler said. "[The club hockey logo] in comparison to the vcat logo is uncomparable."
There was no pushback to this decision at the time, Balogh said.
"We thought this was going to be the best for all, not just for varsity but looking at the University's brand in general and to specify a specific logo for club sports," she said.
Many University leaders were involved in these conversations at the time, including UVM athletics, the club sports coordinator, the club licensing staff, the athletics director and SGA, Balogh said.  
Other club sports are also dissatisfied with the new logo, Ehler said.
"They all wish we could wear the V-cat logo because it's the logo of the school that we pay to attend. It's definitely unfair," he said. "When we went to play Boston College and Northeastern, they were able to wear jerseys with their official school logos."
Some of the other schools in the America East conference, including Stony Brook and UMass Lowell, also use Learfield licensing and do allow the use of one of varsity's primary marks but are very specific about use.
It must say club underneath, Balogh said.
"There's a certain pride that comes with being able to wear your school's logo," Ehler said.
Even though club sports can't use the catamount, they can still use the University of Vermont logo as long as they specify that it's for club sports, as other Learfield Licensing clients do, she said.
In 2003 the primary mark for varsity athletics changed from the V-cat logo to the UVM logo because the licensing department wanted to showcase Vermont on the national platform when we went to the NCAA basketball tournament in Salt Lake City, Balogh said.
There are other clubs that do not use the circle club sports logo.
For example, rugby has a different logo of a crest that has been with them for years, which is always approved, Balogh said.
"I don't want students to feel that they're viewed in a different light because of licensing issues," she said. "This is a healthy conversation to have."