First-year brothers start for lacrosse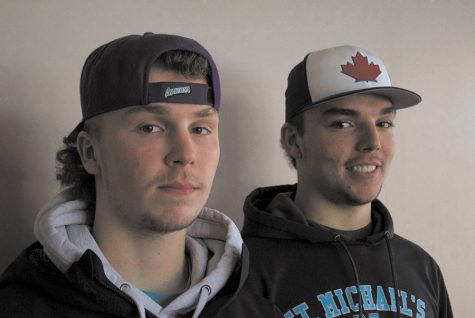 It's unusual for brother-duos to be recruited on the same Division I college men's lacrosse team, let alone both play in starting positions in their first year.  
However, Thomas and Jonathan McConvey are doing that UVM as first-years with starting-positions on the men's lacrosse team.
Their place on the team isn't the only similarity between the siblings. In addition, both are midfielders and each scored their first career goals in UVM's opening game, Jonathon McConvey said.
"We're roommates, both majoring in business, have the same friend group, listen to the same music and are basically best friends," Jonathan said.
Head coach Chris Fiefs said that the two exemplify different characteristics on the field.
"Both of them are very talented players, have a really high lacrosse IQ, but like any two athletes, they do have different approaches to the game," Fiefs said.
The Catamounts have played four games this season, accumulating a 3-1-0 league record, he said.
"Despite it being early, I can say that they are already doing a great job, better than a lot of first-years do when making the adjustment from high school to college," Fiefs said.
Earlier this year during preseason, attackman Ben French, a junior, predicted the McConvey's success at UVM.
"All the first-years are looking really strong, especially the McConvey brothers," French said. "They're two to look out for."
The duo began playing at an early age and were influenced by their father who didn't play lacrosse, Thomas McConvey said.
"He signed us up for teams at a young age and has been supporting us ever since," he said.
Throughout their early years, the two have always played on the same team, and sibling rivalry has made its way onto the field, Jonathon McConvey said.
"We've always been competitive and pushing each other to be better," he said.
The two have moved past this sibling rivalry and have transformed their competitiveness into helping one another, Fiefs said.
"They play off one another really well and compliment each other," he said.
The brothers didn't expect to be on the Catamounts roster together, but are pleased with how things have turned out, Thomas McConvey said.
Jonathon McConvey solely applied to UVM, while Thomas looked at other schools, Thomas said.
After arriving on campus for a student-visit day, each brother was excited to make Burlington their home, Jonathan said.
"We came here and loved it," he said. "The people and team were all welcoming and the campus is beautiful."
They grew up playing with many of the Catamounts players in Canada, Thomas McConvey said.
"We grew up with Ben French, Warren Jeffery, Rob Hudson and Liam Limoges," Thomas McConvey said.
Fiefs said the McConvey brothers have had a smooth transition due to their humility.
"They understand they're first-years and that they're playing in starting roles … a big deal," he said. "They keep their heads down and work hard.
The duo eventually hopes to play lacrosse beyond college, Thomas McConvey said.
"Watching Ian McKay work up to where he is now is definitely inspiring," he said.
Ian McKay, '18 is a former captain of the men's lacrosse team, who is also from Canada, and has gone onto playing in the Major League Lacrosse, according to UVM athletics.
The McConvey brothers have only begun their college athletic career, Fiefs said. He is confident that their success will continue growing over the next four years at Vermont.