Scholarship cuts expand in varsity athletics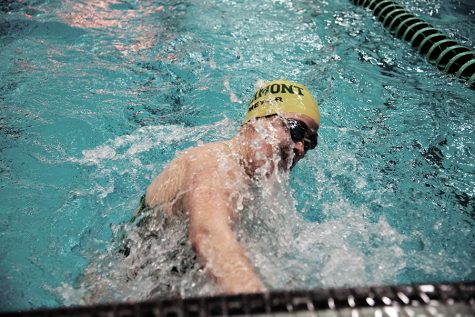 UVM athletics decided to not offer scholarships to athletes in two women's programs and one men's program next year; however, the University is still in Title IX compliance.
Title IX is a federal law that prevents athletic programs from discriminating against athletes based on their sex and mandates that each program be funded equitably, according to the NCAA website.
For women's track and field only 2.5 full scholarships will be offered verses 3.5 offered for the 2018-2019 school year, and for swimming they will offer 4.75 full scholarships compared to 5.75 previously offered, according to UVM athletics.
Despite this, UVM will still meet the Title IX requirement that says that every sport must be proportional in both its participation and scholarship figures, according to a February 2019 email from Nick Stanton, UVM Title IX coordinator.
UVM has reduced scholarships offerings in some programs to the incoming students of the class of 2023, in order to keep the athletics department sustainable, Athletic Director Jeff Schulman said.
"The decision to not offer scholarships in these programs next year are part of a broader departmental effort to ensure a balanced departmental budget for the long term," he said. "There were cuts in all of our varsity programs."
For the 2020 academic year, the University will scale back men's track and field scholarships. Athletics will do this by reducing the number of full scholarships available for the track and swimming.
By not offering new scholarships next year, the department will save around $180,000, according to a December 2018 VT Digger article.
Schulman said that this decision is in no way the first stage of phasing out these programs.
"This is something we're going to reevaluate on an annual basis with all of our programs," he said. "It's part of a very concerted departmental effort to ensure that we can continue to sponsor all 18 of our varsity programs."
With these cuts in place, the head coach of the track and field team, Matt Belfield, worries that the University will not be able to attract students outside the Northeast.
"If somebody is not already interested in us, we generally aren't pursuing that student," Belfield said. "When we have no scholarship to offer, it's hard to take someone who's not interested and turn that around."
Schulman said he realizes how the cuts look when contrasted with the University going forward with a $95 million Multipurpose center.
"I'm very aware of the optics of making these cuts at the same time as we're making a $95 million investment in a big facility project," he said. "It's important to understand that these are very different sources of funding."
Schulman said that he realizes that the decision to cut scholarships is not one athletes are excited about.
"Reducing scholarships is something that we certainly try not to do, but it's been done in the past and we've added scholarships in the past as well," he said.
Schulman also said that reducing scholarship offerings was not the first choice of action.
"These are some of the hardest working athletes both in their sports and in their academics, so it's important that they know that they aren't being targeted," he said.
Budget cuts like these are not a new practice for the University. In 1972, the football program was cut. In 2000, men's swimming was cut, as was baseball and softball in 2009, according to the December 2018 VT Digger article.