Sexual assault awareness group seeks new members
A group of men dedicated to raising awareness around sexual assault was de-recognized by SGA and struggles to fill its ranks on campus.
One in Four is a men's group that supports sexual assault awareness and teaching prevention strategies, particularly to other men.
The group began on campus in 2012 following an incident with a member of the fraternity Sigma Phi Epsilon.
The fraternity member created a questionnaire to send out to fraternity members that read, "If I could rape anyone, who would it be?"
He then accidentally sent it to his teaching assistant, according to a December 2011 CNN article.
One in Four was formally de-recognized by SGA at their Oct. 8 meeting.
The club lost its recognition because it only had four members at the start of this academic year.
SGA requires clubs to have at least eight members, said Robin Alex Rice, a graduate student and co-president of the club.
Recently, the group lost a number of its members because they graduated, but last year, the club went without a president.
This made the situation worse, said senior Jay Lukes, co-president of the club.
"Our president at the time kind of dropped the position out of the blue and stopped going to meetings altogether, so that left us in a pretty sticky situation," Lukes said. "We didn't have any of the contacts from SGA. None of that was forwarded to us."
The group focuses on an hour-long program they present to other men, called the Men's Program, that focuses on preventing sexual assault, said Keith Smith, the group's adviser and men's outreach coordinator at UVM Counseling and Psychiatry Services.
One in Four works with men to talk about what consent is, what sexual assault is and ways to support survivors while working on combating a hostile environment that normalizes rape on college campuses, Smith said.
"A lot of sexual assault prevention views men as potential rapists, but this program is specifically targeted toward men," Smith said. "The organization views men as allies and supporting survivors and preventing sexual assault and rape from happening."
While the group has been de-recognized by SGA, their funding comes from Living Well, which will allow them to continue to operate while seeking new members.
But finding new membership for the club has been difficult largely because of the topic, Rice said.
"It's not an inherently fun group," he said. "I mean, I get a lot of satisfaction out of doing this, and I don't plan on leaving, but it's a hard sell. We obviously want our group to succeed and to succeed we need more members."
The name One in Four comes from a statistic that one in four college-aged women will have experienced rape or sexual assault, Rice said.
"But the flip side of that is one in six college age men will have experienced rape or sexual assaults, and I think that's a statistic that most people don't know," he said. "It's a matter of conveying that men are just as much a part of this issue as women are. It affects everybody."
The group has focused on working with fraternities, but the group has also presented to students at Champlain College and St. Michael's College, Smith said.
Overall, Rice said his goal is to get the presentations One in Four conducts to be mandatory for all incoming first-year students.
"That's the best way to have an impact," Rice said.
Leave a Comment
About the Contributor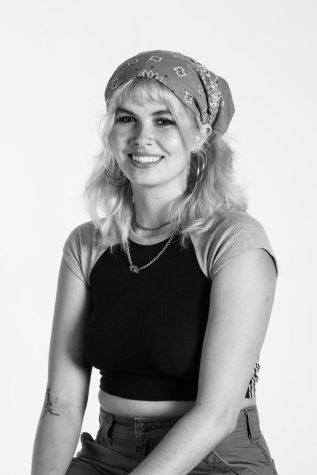 Ella Ruehsen, Editor-in-Chief
​(She/her) Ella Ruehsen is a senior environmental studies major with minors in political science and reporting and documentary storytelling. Before becoming...