UVM to use state COVID-19 relief funds in partnership with CCV for career education for Vermonters
UVM announced a career education program in partnership with the Community College of Vermont at the governor's weekly press conference July 13.
The program, Upskill Vermont, provides Vermont residents with two free UVM or CCV professional development courses, according to the Upskill Vermont website. 
"The program will help those who want to gain new skills or even try a new career path as we emerge from the pandemic," Governor Phil Scott said at his weekly press conference. 
Upskill Vermont is funded through the American Rescue Plan of 2021. The state legislature approved $4 million for the program, said Scott.
ARPA allocates $350 billion for state and local governments to respond to and recover from the COVID-19 pandemic, according to the U.S. Department of the Treasury website.
States have to apply for funding, which may be used to support public health expenditures, address negative economic impacts, replace lost public sector revenue, pay essential workers or invest in infrastructure, according to the USDT.
"As we recover from the pandemic it's so important that we take advantage of all the funding opportunities that we've been handed to make transformative investments that will help us rebuild stronger than before," Scott said.
Provost and Senior Vice President Patricia Prelock of UVM and President Joyce Judy of CCV also spoke at the press conference to announce the scholarship program. 
"Upskill Vermont builds on more than two dozen collaborations that we already have with UVM and CCV through our affiliation agreements," Prelock said. "We're finding some really great ways to integrate their strengths with our strengths," she said. 
The program is set to start in fall 2021, according to the Upskill Vermont website. 
"The program will run about two years, and we will find a way to continue to collaborate with CCV and the legislature if we see that the program is working in the way that we intended it to work," Prelock said.
"Do I think that two college courses, if you're starting out, will get you to your lifelong goal? No, but from a CCV perspective, it will save you $2,000," Judy said.
Judy said that UVM's Continuing and Distance Education Department and CCV are working closely with businesses to best suit changes to the job market.
Some of the businesses she mentioned included King Arthur Flour, Outdoor Gear Exchange and Whetstone Brewery.
Courses are being offered in topics such as leadership and management, healthcare and communities and the digital economy, according to the Upskill Vermont website. 
"Working to turn the tide on Vermont's workforce and demographic trends has been a top priority of my administration," Scott said.
About the Contributor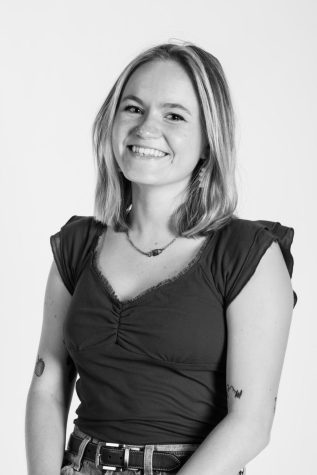 Ellie Scott, Digital Media Editor
(She/her)

Ellie is a senior public communication major from Manchester, CT. Ellie is also an accelerated Master of Public Administration student. This...