Van decorated to combat addiction stigma
While some were getting high with friends April 20, others celebrated by decorating an old van with positive images to support recovering addicts.
Junior Rory Butler lost a friend to a heroin overdose in January and decided to bring attention to the issue with his "UVM Recovery Van" project, he said.
"There is a stigma surrounding addicts and that is what I am trying to eliminate," Butler said. "The stigma makes it infinitely more difficult for people to stop using if they do not have a support system."
First-year Lizzy Chicarello signed the van on Thursday.
Chicarello has witnessed addiction within her own family, and wants to be a part of the solution to the stigma, she said.  
"This project was amazing because it allowed people to get involved in an artistic and uplifting way," Chicarello said. "People were drawn to the van because of the uplifting messages and beautiful drawings."
The van was painted top to bottom — roof and wheels included — with inspirational quotes, sobriety dates, tributes to loved ones lost to addiction and pictures full of positivity, Butler said.
"It was an event to support people who are in recovery from addiction of all kinds," he said. "The intention was for people to come by and paint any positive images or messages that they wanted to in order to show their support."
The SGA and Amy Boyd Austin, the director of the Catamount Recovery Program at Living Well, were helpful in getting the event off the ground and were very supportive, Butler said.
"Although UVM is a large university and often associated with smoking and drug usage, there is a community that understands the seriousness of the issue and is willing to offer support," first-year Casey Henehan said.
The van project shed a new light on the issue of addiction, and is providing a way for people to get positively involved in recovery awareness, Henehan said.
"Vermont is my home state and it hurts me to see heroin and fentanyl killing people that I know," Butler said.
According to the Vermont Department of Health, 106 people died from opioid-related overdoses in 2016, an increase from 2015 when 76 people died.
Butler hopes to continue his project, taking it to different addiction- and recovery-related events to show addicts getting back on their feet that there are many who support them, Butler said.
The van has its own instagram account if people want to stay up-to-date with the project, @uvm_recovery_van.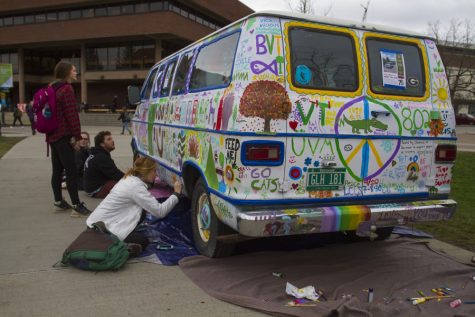 Leave a Comment