Women's hockey skates into new season
Women's hockey is skating into a new season after a summer of consistent strength and conditioning.
Head coach Jim Plumer won the New England Division I Women's Coach of the Year in 2017,  and is pleased with the team's upcoming season schedule, according to UVM athletics.
"I like our schedule a lot this year, we're home for the first four games which is good compared to our difficult early travel schedule last season. It gives us a chance to make a good rhythm," Plumer said.
The team lost five of their first seven games last season, according to UVM athletics.
This year, the team will play four of their first seven games against America East Conference opponents, making these games vital to win in order to advance to the playoffs.
Senior defense captain Sammy Kolowrat, who played all 35 games for the Cats last season, has positive feedback on the team's pre-season training.
"We used an app six days per week to report to our strength coach how we were lifting and what weights we used based on designed workouts, it really kept up our accountability," Kolowrat said.
Kolowrat also played with the Czech national team this past summer, she said.
Plumer is pleased with the team's early conditioning as well.
"We have more well defined expectations going into this season with strength and conditioning, and an extra week of school before official practice starts,"
"Giving more time to get things done even though it's one week of practice, then our first exhibition game," Plumer said.
Fellow senior forward captain Alyssa Gorecki stressed the importance of their positive team chemistry.
"It feels like we've all been best friends since day one with this group, the first-years really fit in too it's like they've played here for years," Gorecki said.
Women's hockey is striving to score more during games, which could help them make it farther into the playoffs this season. This will require a winning record in their strong division.
"One of our big focuses is trying to score more goals, specifically averaging more than three per game, compared to the two or less of last year," Gorecki said.
She also praised the team's newfound depth, with an array of new personalities and a larger roster than last year.
"With only one preseason game compared to two last year we're challenging the freshmen right away to perform under pressure in our crucial first games," Gorecki said.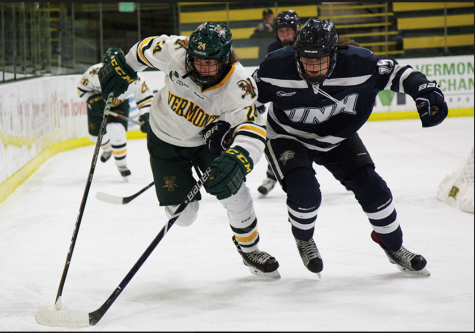 The first women's hockey game will be at 4 p.m. Saturday Sept. 29 at home against McGill University. Afterwards, they'll have another game at 4 p.m. Saturday, Oct. 6 at home against America East rival, University of Connecticut.