COVID cases decrease and students wait in long lines on first day of twice-weekly testing
On the first day of twice-weekly mandatory testing, the UVM COVID-19 testing center attempted to parse through 5,000 students, as the lines to get tested stretched across campus.
The coronavirus testing line extended past the Howe Library towards Old Mill hall and up the Andrew Harris Green path towards Aiken hall in the other direction March 1, as students attempted to meet the new, heightened testing requirements.
The new requirements come on the heels of increased cases of COVID-19 at UVM. On Monday evening, UVM updated their coronavirus dashboard, showing that in the most recent testing cycle, Feb. 22 through Feb. 28, 31 students in total tested positive for the virus.
Gary Derr, vice president for public safety, announced in a campus-wide email Feb. 25 heightened sanctions for Green and Gold Promise violations and the new twice-weekly testing requirements.
As March 1 came to a close some students were still waiting in line at 5;00 p.m., the time when the testing center was set to close. One student that spoke to the Cynic said she had been waiting in line for 52 minutes.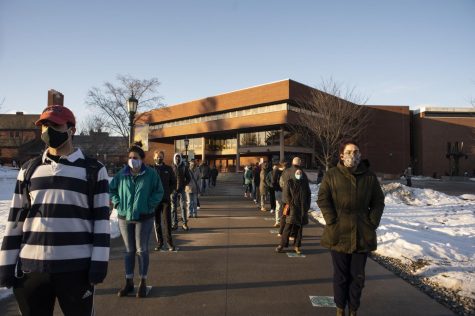 UVM spokesperson Enrique Corredera said in a statement to the Cynic March 1 that officials are working to remedy the situation.
"We are aware of the issue, and we are working on a plan to spread out the testing and reduce the lines," Corredera stated. "It's clear that students are responding positively to the requirement for twice-per-week testing, and that's a good thing."
UVM senior Charlotte Graf said she waited in line for thirty minutes to get her test around 2:30 p.m. Monday.
"We appreciate everybody's cooperation and patience as we streamline the process," Corredera stated.
In the most recent COVID-19 testing cycle, of the 31 positive results, 22 were among on-campus students and 9 were among off-campus students.
Additionally, in Monday's data update, the University clarified its cumulative results for the semester, citing several false positives.
"The cumulative positive results have been adjusted due to false positives previously reported," the website stated.
One student, who received a false positive test on Jan. 29 said they were sent to isolation in a facility full of positive cases. At the time, masking and distancing in COVID-19 positive facilities were not required.
The student said they didn't while in isolation and was released after completing a 10-day stay. Three days later, the student said they got a call, informing them the initial test was a false positive.
"It definitely was frustrating," they said. "There's a chance that I could have gotten it because of being sent to isolation with people who had COVID."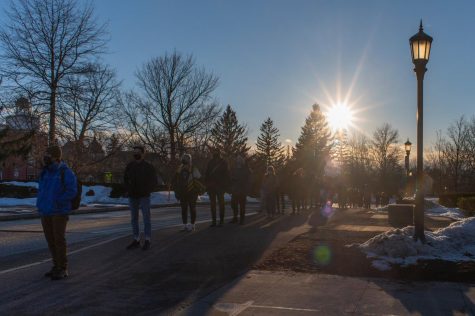 There have been 172 cases of COVID-19 found in the UVM community so far this semester, with 114 coming from on-campus students, 54 from off-campus students, and 4 from staff members.
The total number of student cases currently for the spring semester is almost double what it was by the end of last semester in its entirety.
No faculty have tested positive for the virus this semester as of yet.
Chittenden County still has the highest numbers in the state, with 439 recent cases in the last 14 days.
Leave a Comment
About the Contributors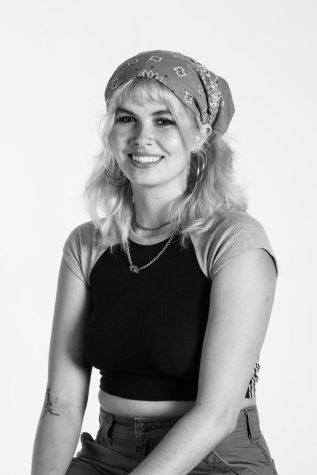 Ella Ruehsen, Editor-in-Chief
​(She/her) Ella Ruehsen is a senior environmental studies major with minors in political science and reporting and documentary storytelling. Before becoming...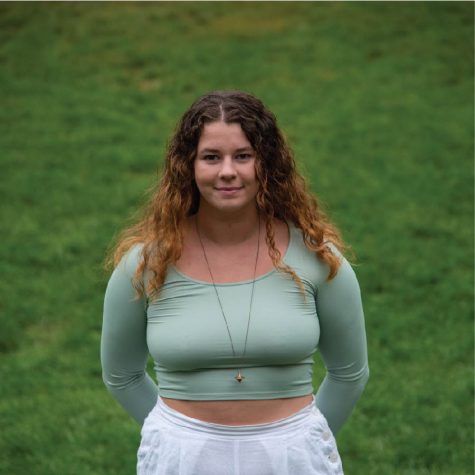 Kate Vanni, Editor-in-Chief
(She/her)

Kate Vanni is a senior Communications Design major with minors in Applied Design and Studio Art. Before becoming the Editor-in-Chief, Kate...