SGA's mandatory club sexual violence training sparks student concerns
SGA's first-ever sexual assault prevention training for clubs on Nov. 16 generated significant discussion and frustrations, said Lina Balcom, interim director of Student Life.
The training, led by guest speaker from Momentum Counseling Caitlyn Rose Clark, was scheduled to include an introductory speech, Q&A and workshopping session, Balcom said. The Q&A continued past its planned conclusion and Clark did not provide the prevention tools she promised during the session.
Balcom believes many students expected this training to address specific issues and offer ClubSigners more power to respond to sexual violence, she said.
"I feel just as powerless as I did before as a ClubSigner after this training," said senior Eric Coughlin, president of UVM Beekeepers. "I want to be able to say the UVM Beekeeping Club has a zero-tolerance policy for sexual assault and misconduct, [… but can't] until there's major adjustments in the University's administration and policies."
Clark is a coach for  Momentum Consulting, a company offering human performance training, according to their website. She's listed as specializing in masculine and feminine dynamics, but her LinkedIn mentions no training in sexual assault or other qualifications. Clark is a survivor herself, said senior Natalie Johnson, Outing Club president.
Clark will record the training tools workshop she skipped over and to send to SGA which will then distribute the videos to ClubSigners before winter break, said junior Ann Wong, chair of the SGA club affairs committee.
When Clark opened up the floor for questions, many students asked UVM-specific questions Clark was not adequately prepared to address, Balcom said.
"The things students wanted to ask her were very legitimate and important," Balcom said. "[But] there was no way she was going to be able to provide them the information they were asking for."
Clark prioritized the Q&A so students could start conversations about their issues and brainstorm, Wong said.
Clark did research to prepare for the training, but no amount could have gotten her to understand what UVM was truly like until speaking to students directly affected, Wong said.
The training came in response to the UVM Title IX Advisory Committee's May 2021 demands, which called for required annual sexual violence training for all clubs, Wong said. SGA required two representatives from each club to attend, one of whom had to be an officer.
"She was very committed to the cause of preventing sexual violence, [but …] I felt [Clark's presentation] was misguided," Coughlin said. "I could tell in the second half [Clark] knew she had the wrong presentation for the issues UVM faced."
In the midst of the discussion, Balcom stepped in to offer herself as a resource for UVM-specific concerns, Balcom said.
"There was information I could share that could make a positive impact and help students understand what resources did exist for them and give them an answer that felt more satisfying than the speaker [could]," Balcom said.
Clark's speech entailed ways survivors could hold themselves accountable and handle themselves in the aftermath of sexual assault, drawing on Clark's own experiences as a survivor, Johnson said.
"When we were looking for our speaker, our main goal [was addressing] ways we can be proactive when looking at sexual assault rather than reactive," Wong said.
Coughlin thought the information was useful and meaningful, but he would have liked for it to go to an audience wider than club leaders, he said.
Many ClubSigners feel limited in their ability to address sexual violence within their club, Balcom said. They cannot remove a member for sexual misconduct unless the member is found responsible through the Center for Student Conduct or a Title IX hearing, which does not always happen in assault incidents.
Balcom said she believes there are other options clubs can pursue beyond removing a member, such as restorative circles.
Balcom said she welcomes feedback on the training and the issue of sexual violence within clubs. While the event's discussion was marked by frustration, many students have expressed satisfaction with the training to her.
"You're never going to satisfy everyone, and we did the best we could with the resources we had," Wong said. "Reflecting back on it, we definitely are seeing areas we can improve."
SGA will be holding mandatory sexual violence prevention training for clubs each semester for the foreseeable future, Wong said. For future trainings SGA plans to include more diverse speakers and perspectives.
About the Writer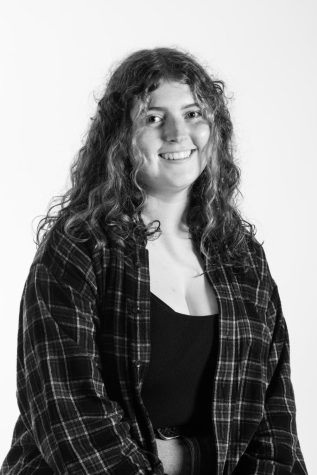 Halsey McLaen, News Editor
(She/they) Halsey McLaen is a junior from Groton, Connecticut, majoring in environmental sciences with a minor in reporting and documentary storytelling....