Sophomore prom sells out
Students clad in elaborate dresses and suits flooded the Grand Maple Ballroom Oct. 21 at UVM's sold-out sophomore prom, held by the Department of Student Life.
The event aimed to provide a prom experience for students who likely missed their high school prom as a result of the COVID-19 pandemic, according to the Department of Student Life webpage. Student demand for the event was unprecedented, said Lina Balcom, interim director of Student Life.
"I have been working for 10 years at UVM," Balcom said. "I've been working in higher education and programming for 30 years, and especially at UVM, I've never seen a dance of any sort sell out with 750 tickets, ever in my life."
The prom intended to serve as many sophomores as possible, but offering tickets to the entire class was impossible, Balcom said.
"Seven hundred and fifty is the maximum capacity that we can have in [The Grand Maple Ballroom]," Balcom said.
UVM's ability to accommodate less than half the class is unfortunate, sophomore Amelia Canney said at the dance.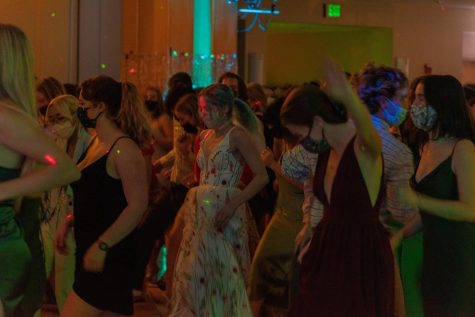 "I certainly knew people who were asking around about tickets, trying to find a way to get them," Canney said.
Events held for the sophomore class up until now were underwhelming, sophomore Alanna Duff said at the dance.
Some students are satisfied with what UVM has done so far given the circumstances, sophomore Lukas De Schepper said at the dance.
"No one told me what [college] was supposed to be like, so in my opinion, they did the best they could," De Schepper said.
UVM understands the need for additional programs and events for sophomores, but there might not be anything else as large as the prom, Balcom said.
"I don't want to promise that we're going to put any other really large-scale, full sophomore class programming out," Balcom said. "I do know that there are conversations about the importance of that and we're looking at how [we can] make sure that that gets fit into what we offer."