Staff union says Provost neglects diverse applicant pools
UVM's staff union, UVM Staff United, released a petition Jan. 24 opposing recent additions to the administration by means of internal hires, according to the petition.
UVM Staff United sent the petition to administration Jan. 31, calling attention to the recent promotion of Erica Caloiero, vice provost for student affairs, an internal hire who replaced a national search. The petition stated such actions stem from exclusion of diverse voices.
"It is beyond frustrating to see high level positions that wield remarkable influence over the direction of this institution simply handed out without a national search," the petition stated. "The frustration is only compounded when those actions are steeped in the perpetuation of white supremacy."
Patricia Prelock, provost and senior vice president, originally planned to conduct a national search to fill the vacant position, according to a Dec. 6, 2021 press release. Despite this commitment, she promoted Caloiero from her role as interim provost for student affairs, to the full position.
Caloiero previously served as assistant dean for Student Affairs in the College of Nursing and Health Sciences. Prelock also worked in CNLS as dean of that college prior to being internally hired as provost, according to a Nov. 18, 2019 VTDigger article.
The petition does not seek to remove Caloiero from the position, but instead aims to prevent this from happening in this manner in the future, said Troy Headrick, assistant director for community standards at the Center of Student Conduct and author and sender of the petition, who identifies as white.
"We remain a campus that is overwhelmingly white," Headrick said. "When white people in positions of power appoint white people into similar positions of power, it perpetuates the hoarding of power by white people."
National searches allow for the identification of the most qualified candidate and open the door to the inclusion of those who may want to serve UVM's community from a different point of view, Headrick said.
UVM's Recruiting Resources guide stated national searches are standard procedure for appointments. This same document stated UVM is an affirmative action employer committed to a fair and welcoming recruitment process.
"Underrepresentation doesn't happen by accident, it happens by design. This is one component of that design," Headrick said. "We systematically exclude people from having access to jobs.
This appointment sends a message of continued disregard for staff of color at the University, said Norman Medina, research project assistant at the UVM Medical Center Psychiatrics and UVM Staff United bargaining team member, who identifies as brown and mixed and signed the petition.
"Even if your intentions were the best, it doesn't look right to the historic events that are happening already," Medina said. "So what we see is a continuation of trying to put people in positions of power where they want to keep the oppression of everybody else."
People in power continually underappreciate and undervalue staff of color on campus, Medina said.
Medina originally came to the University because of its positive inclusive messaging, only to find himself mistreated as a result of his race, Medina said.
These appointments show a continual disregard for the valuable and qualified candidates of color both at UVM already and across the nation, Medina said.
"The damage is done, you cannot repair it," Medina said. "It's not going to fix the culture that is already in place in which you appoint people that you trust."
Prelock appointed Caloiero for the extraordinary circumstances of the pandemic as well as her qualifications and accomplishments, UVM Spokesperson Enrique Corredera stated in a Feb. 1 email. UVM and Prelock are still committed to advancing diversity, equity and inclusion priorities.
"While the University believes in the value of national searches, and engages in them regularly, it also recognizes that there are times and circumstances that warrant internal promotions when they are deemed to be in the best interest of the institution," Corredera stated.
Regardless of the reasoning behind both Caloiero's appointment and any other internal hires, Headrick said the impact of these actions is the systematic exclusion of any qualified BIPOC candidates for that position.
Prelock recently hired four staff members of color within the last 14 months out of six total hires in that timeframe, Corredera stated.
Prelock hired Dr. Jane Okech, vice provost for faculty affairs, Dr. Amer Ahmed, vice provost for diversity, equity and inclusion, Dr. Noma Anderson, dean of the College of Nursing and Health Sciences, and Dr. Fitzroy Beckford, associate dean and director of UVM Extension in the College of Agriculture and Life Science, Corredera stated.
However, the appointed staff of color do not overrule the white supremacy implications, Medina said.
This petition comes as part of a broader UVM Staff United initiative to increase diversity, equity and inclusion, said Annie Valentine, education and training manager at the Center for Health and Wellbeing and UVM Staff United bargaining team member, who identifies as white.
"This petition is embedded in what we are talking about as a staff," Valentine said. "This petition is one action to help staff be able to start to use their voices and come together."
The union is hoping to get further student and faculty support for this petition and their other bargaining priorities, Valentine said. The union is holding a town hall meeting Feb. 17 at 6 p.m. accessible both at Brennan's Pub and virtually, to promote their cause.
Prelock and Caloiero did not respond to the Cynic's multiple requests for comment.
About the Writer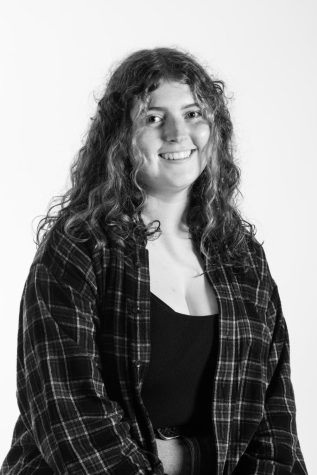 Halsey McLaen, News Editor
(She/they) Halsey McLaen is a junior from Groton, Connecticut, majoring in environmental sciences with a minor in reporting and documentary storytelling....