Thousands sign petition in protest of UVM's break housing fees
Dozens gathered inside Waterman Memorial Lounge on Friday in protest of UVM's Thanksgiving break housing fees in a rally the UVM Union of Students organized.
UVMUS held the rally to encourage UVM to drop the break housing fee, holding the belief that the cost of on-campus housing was enough to cover a one-week break period. These costs also disproportionately impact the international student community, said sophomore Purva Shirolkar, an international student.
"It's sad that UVM fails to empathize with students in need," Shirolkar said. "Decisions are being made without taking [that] into consideration."
Shirolkar cannot return to her home in India for the break. She works an on-campus job but can't afford the $296 housing fee and must choose between break housing and buying winter clothing, she said.
"It's expensive to stay here and it's expensive to travel," Shirolkar said. "I feel like I could go to [other] places, but why? UVM is supposed to be my home."
Leaving campus is not an option for many people and Residential Life needs to recognize that, said senior Areeb-Ud-Din Ahmad, secretary of the International Students Club.
Still, Residential Life believes the fee is not unaffordable to students and fairly compensates the utilities and workers UVM provides when letting students stay over break, said Kevin Hytten, interim executive director of the Department of Residential Life.
"It's important to recognize that these are vacation periods," Hytten said. "By having break housing, we're being compassionate to those students who don't have a place to go or who choose to stay here."
UVM offers break housing to students for a base fee of $161, with an additional $135 for an optional meal plan, according to the Residential Life website. The existence and pricing of additional break housing fees are detailed in the housing contracts students must sign to live on campus.
These charges offset the cost of keeping the buildings running and staffed, according to Hytten.
Students struggling to afford the housing fee should reach out to Student Financial Services, Hytten said. SFS can be reached at [email protected] or 802-656-5700.
Hytten does not believe on-campus housing is overpriced and said the costs have stayed flat for two years.
Residential Life provides funding for more than people may realize and is currently spending significant funds repairing damage done by students to common areas, Hytten said.
"People would be surprised to see just how much Residential Life's budget goes in supporting many different operations on our campus," Hytten said.
The rally followed a UVMUS petition calling upon the University to reconsider the break housing policy because of its potential effects.
"We demand […] the University of Vermont immediately makes available an emergency fund for students who cannot travel home, to assist paying for their University of Vermont Thanksgiving break housing […] [and] includes break housing in all future UVM Housing contracts at no additional fee," the petition stated.
The petition also calls for a breakdown of Residential Life's $47 million budget and a reduction in the cost of on-campus living.
UVMUS sent the petition to UVM administrators the morning of the rally, said senior Chrysanthemum Harrell, a UVMUS member. The petition had more than 2,200 signatures when it was sent to admin.
"They can ignore our emails if they want to, but they can't ignore students at their door," Harrell said.
To further support those in need of Thanksgiving housing, UVMUS posted housing support sign-up sheets in a Nov. 13 Instagram post. Students in need of housing and community members with spare accommodations may sign up and UVMUS will connect them with one another.
Hytten said he is unaware of any plans from the administration to respond to the movement.
About the Writer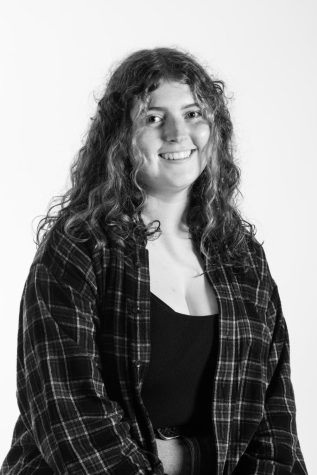 Halsey McLaen, News Editor
(She/they) Halsey McLaen is a junior from Groton, Connecticut, majoring in environmental sciences with a minor in reporting and documentary storytelling....