University saves millions by knocking down old buildings
Lee Hughes, Assistant News Editor
September 20, 2018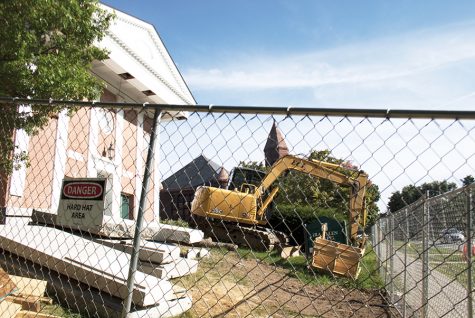 Mo Quigg
The University saved millions of dollars in work on old buildings by spending more to build new ones.
Over $38 million in deferred maintenance costs to bring buildings up to code was instead used to build new buildings to replace them.
The Cook Physical Science building, which occupied space now to be filled with Innovation Hall, was estimated to have $28 million in deferred maintenance costs, which was eliminated by replacing the building, said Bob Vaughan, director of capital planning and management.
Similarly, the replacement of former residence halls Chittenden, Buckham and Hill with the Central Campus Residence Hall saved spending of $8 million, he said.
Most construction on campus, particularly around Central campus, is expected to wrap up in summer 2019, after 4 years.
As of the February 2017 board of trustees meeting, UVM had $44 million in outstanding deferred maintenance costs, according to the board meeting minutes.
This year has the least amount of construction occurring on campus since work began in 2015, Vaughan said.
First-year Sara Pascarella said construction makes it more difficult to get to classes and find her way around campus.
"I remember when I came to tour there was even more [construction], so there was a little less than what I expected, but there is still enough that it made things a little harder," Pascarella said.
The construction has renovated various halls, such as Cohen Hall, formerly the Taft School, which added six new classrooms, Vaughan said.
Overall, 33 of the 105 general purpose classrooms on campus were renovated or built this summer, he said.
Torrey Hall's exterior has been repaired, however the interior damage from the August 2017 fire still needs renovation, Vaughan said.
The University needs $3 million to renovate and already has approximately half of that in insurance money from the fire while the other half will be raised by the UVM Foundation, he said.
"The mission of the UVM Foundation is to secure and manage private support for the benefit of the University of Vermont," according to the foundation's page.
Once the money is obtained it should take a year to complete renovations, Vaughan said.
All but Ira Allen, Royall Tyler Theatre and Innovation Hall are unfinished on Central campus, but the campus has opened up now that the fence lines have come down in many places this semester, Vaughan said.
The exterior of Innovation Hall is slated to be finished by this winter, he said.
The campus shuttle route has changed from last year, Vaughan said.
It now goes between Kalkin and Votey, a route previously closed due to construction, and it will continue to go by the south side of the Bailey/Howe Library until construction on Central campus is over, he said.
The shuttle's regular Central campus route will be reinstated in summer 2019, Vaughan said.
It will return to its usual loop around the basketball court in front of Harris Millis once the steam pipe repairs are finished this fall, he said.
The steam line's deterioration was unexpectedly discovered this summer and it prevents heating to be supplied to that area of campus, Vaughan said.
Currently, each building's individual boiler room is tasked with supplying heat to them, he said.
Sophomore Ada Dunkley said she feels more impacted by construction on campus because she lives in Millis and the steam line repairs block the most convenient entrance and exit.
Dunkley hopes that during the renovations the environmental impact is minimalized and as much of the old materials are recycled as possible, she said.
Repairs on the steam line by the Mosaic Center will happen between Sept. 4 and 12, according to a Sept. 3 email from ResLife.
The steam line near Kalkin was repaired this past summer for similar issues, Vaughan said.
Future projects will include the construction of the multipurpose athletic center as well as a new medical school building to connect to the Health Science Research Facility, said Lisa Kingsbury, planning relations manager and interim co-director of Campus Planning Management.
"[The multipurpose athletic center] is a project that we are still moving forward on and hoping that we'll be able to start this winter. Our office is doing the permitting for that right now," Kingsbury said.
The medical school building is tentatively scheduled for late 2019, Kingsbury said.
"They are in the design process for that right now and that one will go to permitting, I believe, in the spring," Kingsbury said.
Even as renovations and construction are winding down, the safety of students, staff and faculty remains a top priority and no access to an area will be granted until it is certain it is safe, Vaughan said.
"I can't stop noise, I can't stop dust and I can't stop inconvenience," he said. "So please have patience and understand that things are going to be that much better once we are done."